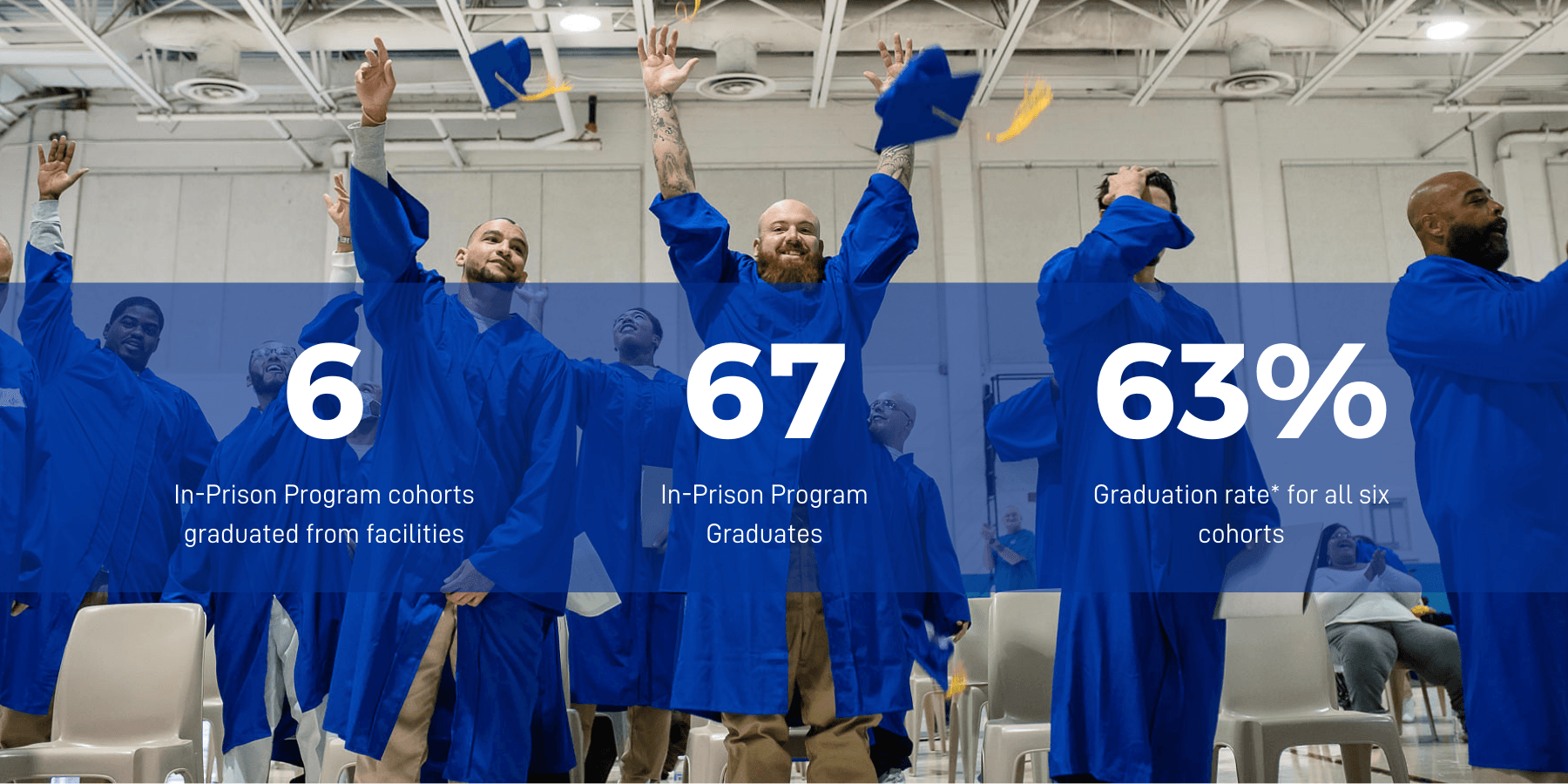 The RISE In-Prison Program continued to have programming delays in 2021 due to the COVID-19 pandemic as facilities would go into lockdowns for weeks - even months on end. However, our program participants and peer facilitators stayed focused and determined, often meeting with their fellow classmates in housing units, which allowed the program to stay on course.
We may have faced a few graduation delays and rescheduling, but once graduations rolled around, everyone was ready to celebrate all of the hard work they had dedicated to the program.
It was incredible to once again have families join our graduation events this year - to see our Graduates be parents to their children, to celebrate the journey of rebuilding their lives, and to recognize the love and support they receive from their loved ones at home.
Separation from family members during the pandemic has been incredibly challenging, with visits being limited and in-person visits not resuming until May of 2021.
Over the past year, we have also had the opportunity to start new activities inside facilities. At the Nebraska Correctional Center for Women, RISE Graduates initiated a new RISE Ambassadors Club where they bring learning opportunities to their fellow peers.
The Graduates organized a large Reentry Expo with over 60 people in attendance. At the Expo, RISE staff, RISE Graduates, and other reentry organizations led workshops about shifting mindsets, preparing for reentry, effective interviewing skills, and budgeting. We also had the opportunity to offer parenting and healthy relationship classes, led by our new Youth and Family Associate, Alana Alexander, as well as mindfulness classes led by volunteer, Caitlin Finn.
In-Prison Program Outcomes
By Erin Cooper, MS, Director of Research & Evaluation
Upon entry to the in-prison program and upon completion, participants complete an 85 question survey that measures over a dozen areas of construct that are covered in RISE curriculum.
Through data analysis, RISE is able to determine statistically significant growth for the 2021 Graduates and what areas growth was found.
The results of this data analysis indicate that RISE in-prison programming is significantly impacting the lives of its participants in the following areas:
Behavior change
Hope and empowerment
Grit
Employment readiness
Positive support systems
Despite statistically significant results being limited to the aforementioned areas, it is important to recognize that growth did occur in many other areas when examining raw data pre-programming and post-programming.
For example, growth was witnessed in healthy coping strategies, self-efficacy, prosocial behavior, developing relationships, improved decision making, and reentry preparedness.
Regardless of statistical significance, growth in any area related to character development and employment readiness is likely to positively impact outcomes during the remaining time of incarceration and post-release.
*107 individuals in 2021 began IPP programming. 40 did not complete and 67 graduated. 67/107=62.6.
Applicant only individuals were not included as they did not participate.
---
We want to hear from you! Emails are often returned within 24 hours.