Special Event! #cut50 Empathy Tour
Van Jones' The Redemption Project
Omaha, Nebraska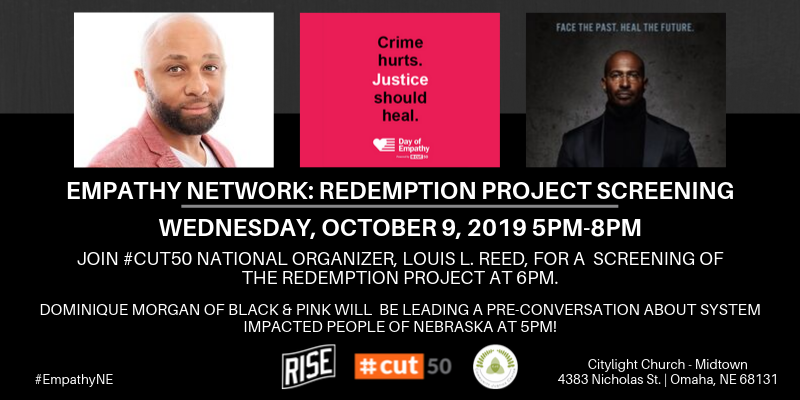 Join us for #cut50's Empathy Tour, hosted by RISE, the Community Justice Center, and Dream Corps National Organizer Louis L. Reed!
Date and Time
Wednesday, October 9th, 2019
6:00PM - 8:00PM CDT
Dominique Morgan with Black & Pink will lead a pre-conversation at 5:00pm regarding those impacted by incarceration in Nebraska.

Location
Citylight Church | Midtown
4383 Nicholas Street
Omaha, NE 68131
---
Following the 6:00pm screening of The Redemption Project, join our panel for a Q&A session regarding advocacy, policy, and the state of those impacted by incarceration, including within the state of Nebraska.
Panelists Include:
Jasmine Harris, MPH, CHES, Director of Public Policy and Advocacy with RISE.
Shakur Abdullah, Omaha Trainer and Outreach Specialist with the Community Justice Center.
Danielle Conrad, J.D., Executive Director of ACLU of Nebraska.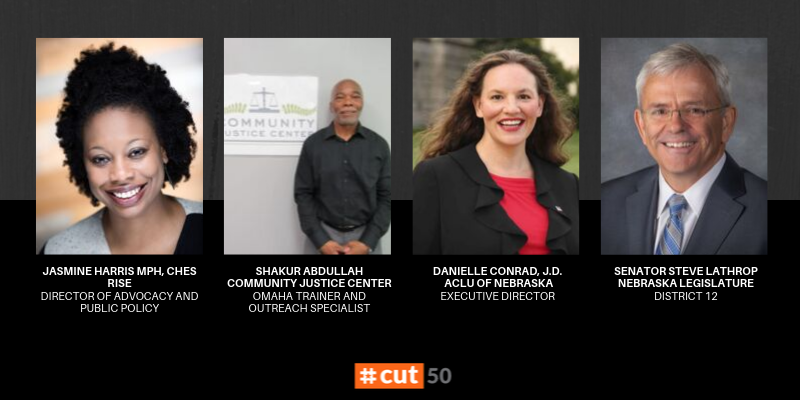 Who is #cut50?
#cut50 is a national initiative and bipartisan effort to reduce the population in prisons in the United States, all while making the communities in which we live safer. By leading campaigns with people directly affected by the justice system, #cut50's mission is to influence change.  
With Nebraska having the second most overcrowded prison population in the nation, it's time for everyone to become an unlikely group of allies.
What is The Redemption Project with Van Jones?
The Redemption Project with Van Jones is a CNN Original Series taking viewers inside the US prison system and getting to the forefront of criminal justice and the restorative process.
What is The Empathy Tour?
The Empathy Tour is an event sponsored by #cut50 to increase empathy in the community and bring light to criminal justice reform, survivors of violence, substance abuse, and how they collate. RISE and the Community Justice Center are honored to be hosting this event with Dream Corps National Organizer, Louis L. Reed!
What will The Empathy Tour look like in Omaha?
5-6PM
Prior to the 6PM screening of The Redemption Project, Dominque Morgan of Black and Pink will open up conversation about the work and programs currently being implemented in the state of Nebraska ensuring successful and safe reentry into the community in addition to solutions to mass incarceration.
If you are currently involved in or are deeply considering getting involved in the work already being done in our community, 5-6PM hour is a great time to get information and ask questions!
6-7PM
A special screening of the CNN Original Series, The Redemption Project with Van Jones will be shown. This screening runs roughly 45 minutes to one hour long and offers a rare glimpse into the restorative justice process by following a victim or surviving family members as they prepare to meet their offender in hopes of finding answers and a sense of healing. 
7-8PM
Following an emotional screening of The Redemption Project, #cut50 Dream Corps National Organizer, Louis L. Reed, will facilitate a Q&A session compiled of three influential members of our local community working closely with those with criminal histories.
At this time our panelists will be answering questions regarding the current state of the prison system on a national and state level in addition to ways we can become allies and create safer communities.
---
More about our Panelists:
Jasmine Harris, MHP, CHES is RISE's new Director of Public Policy and Advocacy. In this role, Jasmine's focus is to influence advocacy initiatives and advance large-scale reform. The overall goals are to help reduce the population of incarcerated individuals and eliminate the barriers people endure upon returning home after incarceration in Nebraska. Establishing relationships with partners, policymakers and community members are essential in this role.
Jasmine's background in coalition building around substance use policy and prevention efforts has paved the way for her to build her community advocacy and create awareness and influence the advancement of legislation and policy that benefits people who have been impacted by the criminal justice system. During her time as the Urban League of Nebraska Young Professionals Civic Engagement Committee Chair, Jasmine led the group in efforts that raised awareness about criminal justice issues and established the Black & Brown Legislative Day, which created an opportunity for youth and people of color to learn more about the legislative processes in Nebraska's unicameral.
With her wealth of knowledge, organization and community connections, and proven work ethic, Jasmine has the opportunity to utilize this position to create real change in Nebraska's criminal justice landscape.
Shakur Abdullah, Omaha Trainer and Outreach Specialist with the Community Justice Center. Shakur is a National Institute of Corrections (NIC) certified offender workforce development specialist (OWDS). Shakur has three years of experience providing pre and post release reentry services to justice involved individuals in Nebraska and Iowa.
Shakur is a member of the Incarcerated Children's Advocacy Network (ICAN) a leadership and advocacy network comprised of former juvenile lifers. ICAN was created by and affiliated with the Campaign for the Fair Sentencing of Youth (CFSY).
Shakur brings an extensive background of over 4 decades of incarcerated experience to the CJC. Arrested and sentenced as a juvenile in 1975, Shakur discharged Nebraska Department of Correctional Services (NDCS) custody in 2016 upon completion of a 41 year homicide sentence. While incarcerated Shakur took advantage of habilitative opportunities (personal, academic and vocational) to be released from prison better not bitter. Shakur's passion is to help repair the harm he created and assist others in accomplishing the same duty.
Danielle Conrad, J.D., Executive Director of ACLU of Nebraska, is a lifelong Nebraskan who was born and raised in rural Seward County. She is a graduate of the University of Nebraska-Lincoln and the University of Nebraska College of Law. She was elected to the Nebraska Legislature in 2006 and re-elected in 2010. During her term of service, she was an eight-year member of the powerful Appropriations Committee and was elected by her peers to serve on the Committee on Committees, Legislative Performance Audit Committee, Nebraska Retirement Systems Committee and the Redistricting Committee. As a State Senator she earned a reputation as a strong leader, a talented coalition builder, and a champion for vulnerable populations.
Outside of the legislature, her professional career has included working as a staff attorney and policy advocate for low-income working families and new immigrants at the Nebraska Appleseed Center for Law in the Public Interest, Executive Director of the Lincoln Parks Foundation, and political consulting.
After leading a successful effort to raise the state minimum wage via citizen initiative Danielle Conrad became the Executive Director of the ACLU of Nebraska in November 2014. Since taking the reins at ACLU of Nebraska, Danielle has worked tirelessly to stabilize the organization's financial health, diversify revenue streams, professionalize operations, foster growth and budget to ensure staffing capacity to meet increasing threats, retain top talent, and fought successfully and fearlessly to protect and expand civil rights and civil liberties for all Nebraskans.
Danielle is married to Thomas Conrad (University of Nebraska College of Law 2003) who owns and operates Heartland Optical, a small business located in North Lincoln. The couple resides in the East Campus Neighborhood and enjoys golf, fishing, and attending Husker sporting events. Danielle and Tom keep busy chasing after their six-year-old daughter Caroline and two-year-old son Will. Danielle currently serves on the Board of Directors for Legal Aid of Nebraska and volunteers in Lincoln Public Schools.
Steve Lathrop is the state senator from District 12, which includes Ralston and part of southwest Omaha. As chairman of the Legislature's Judiciary Committee, he is involved in legislation related to Nebraska's criminal justice system, including the Department of Corrections. During his previous terms in the Legislature, from 2007-2014, Lathrop led investigations into sentence miscalculations and other issues at the Department of Corrections, as well as problems at the Beatrice State Developmental Center.