What is a RISE Business Pitch Competition?
Volunteering with RISE in Nebraska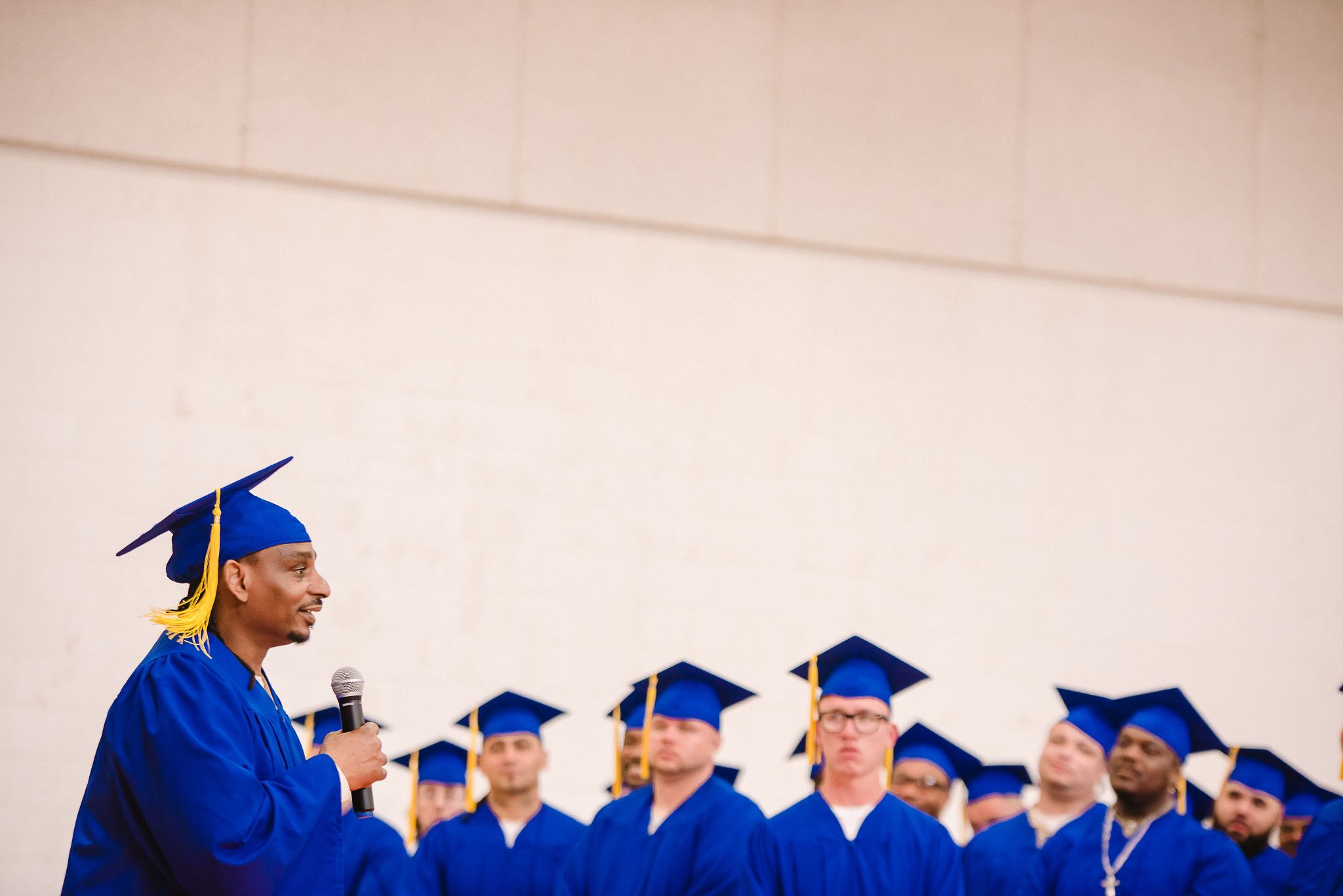 RISE is a six month program currently offered inside seven prison facilities in the state of Nebraska, the second most overcrowded system in the nation. This program covers an array of topics ranging from forgiveness to overcoming shame, parenting and finances, competition in business, job readiness to developing an entrepreneurial mindset.
With ninety-five percent of those incarcerated in state prisons being released at some point, it's critical to set them up for success upon reentering the community. Not only with the skills to find reliable employment, but employment that suites each individuals strengths.
How does RISE work?
With RISE's curriculum, each program participant (Builder) is required to fully develop a mock business to pitch it in front of a panel of volunteers. They develop a thorough business plan, study profit margins, determine who their competition would be, how to market to their audience, and how to ask someone for an investment.
Builders go through an intensive process of building strong resumes and participate in mock interviews. Additionally, Builders create personal statements answering the highly anticipated, "tell me about yourself" question many receive in a job interview. 
Once Business Pitch Competition Day arrives, Builders have participated in hours of class time, taught by both RISE Program Associates and RISE Peer Facilitators, a coveted position earned and applied for by past graduates of the program still incarcerated.
Additionally, at this stage, Builders have participated in a Coaching Day and Deep Dive session where they've received feedback on resumes, personal statements, and business ideas by local volunteers to ensure they have the best version possible by Business Pitch Competition day.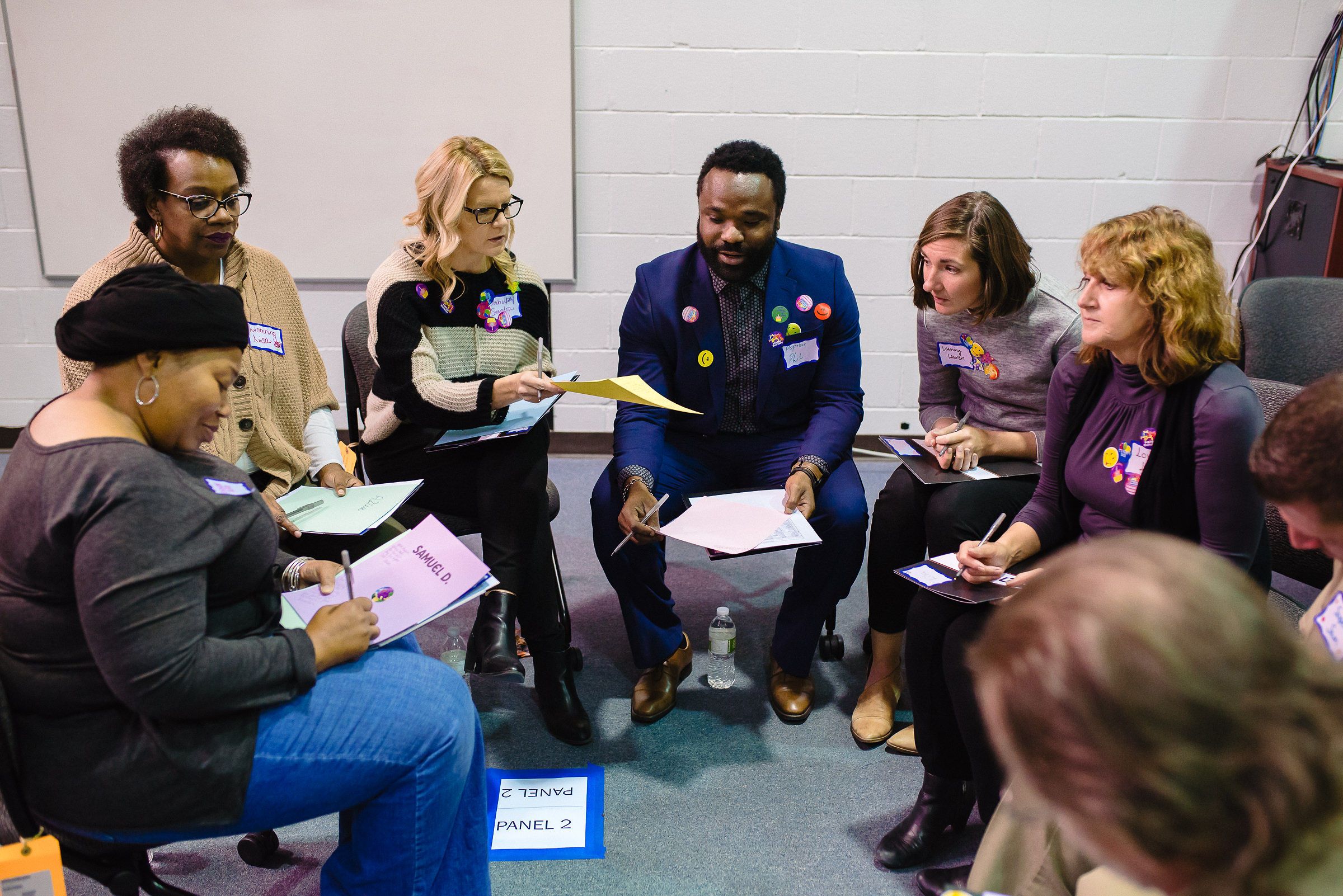 What does Business Pitch Competition Day look like?
Business Pitch Competition Day is, without a doubt, the most anticipated event throughout the RISE program. For volunteers coming inside the facilities on this day, you'll be greeted into the pitch room just as if you were the starting lineup of the Nebraska Huskers entering the building!
There will be music, high fives, cheers and a welcome tunnel by our Builders. Not only will they be extremely excited to see familiar faces and some new ones, they'll be extremely nervous to pitch such a big idea! For several of our Builders, they haven't had visitors in a long time, so we feel humbled to be the ones showing up to deliver hope and support.
Once our volunteers have been given a, what we call, "Level 10 Welcome", we ask our Builders to begin working at finding things they have in common with the volunteers that have entered the room. Through a series of icebreaker questions and genuine curiosity, our Builders and volunteers start building trust with each other. 
When asking Builders what it's like to have volunteers in the room, it's often mentioned how inspiring it is to have a professional they would have never otherwise met, teach and invest their time into them. They also greatly appreciate having volunteers inside that are willing to meet them where they're at today, not where they came from, and not the person they were in the past. To us, that's a pretty powerful statement we can all get behind.
After a little networking and overview of the day, our volunteers break off into panels to receive information on what to expect from the pitched they're about to hear. From the overall point system to the pitch must-haves, volunteers are guided into what their next steps will be. 
Depending on the facility and size of cohort, each panel will have 2-3 Builders introduce themselves, give their personal statement, and finally deliver their business pitch. From here, volunteers will ask questions regarding marketing strategies, finances, and hiccups they might encounter along the way. They'll also provide feedback on each pitch to be implemented in the next round of pitching, should they advance to the next round.
Each Business Pitch Competition has three rounds of pitching, with only a fraction of the Builders advancing to the next round based on an awarded point system. Once semifinalists have been announced, Builders welcome special guests - friends and family.
We believe showcasing the growth our Builders have made to family and friends is one of the greatest benefits of completing RISE. In athletics, your team is only as good your coach; when it comes to reentering the community, you're only as successful as the support behind you. We strongly believe our Builders are worthy of experiencing success, welcoming it into their lives, and sharing it with the ones they love.
After a little lunch and bonding time with family, friends, and volunteers, our pitch finalists are announced and will then pitch their business for the last time. From there, votes for the winner of the competition are cast from volunteers, program participants, and the special guests that have arrived to determine our first through fifth place winners!
Winners receive a small dollar amount that can be put towards their reentry plan or business startup once they are welcomed home back into the community!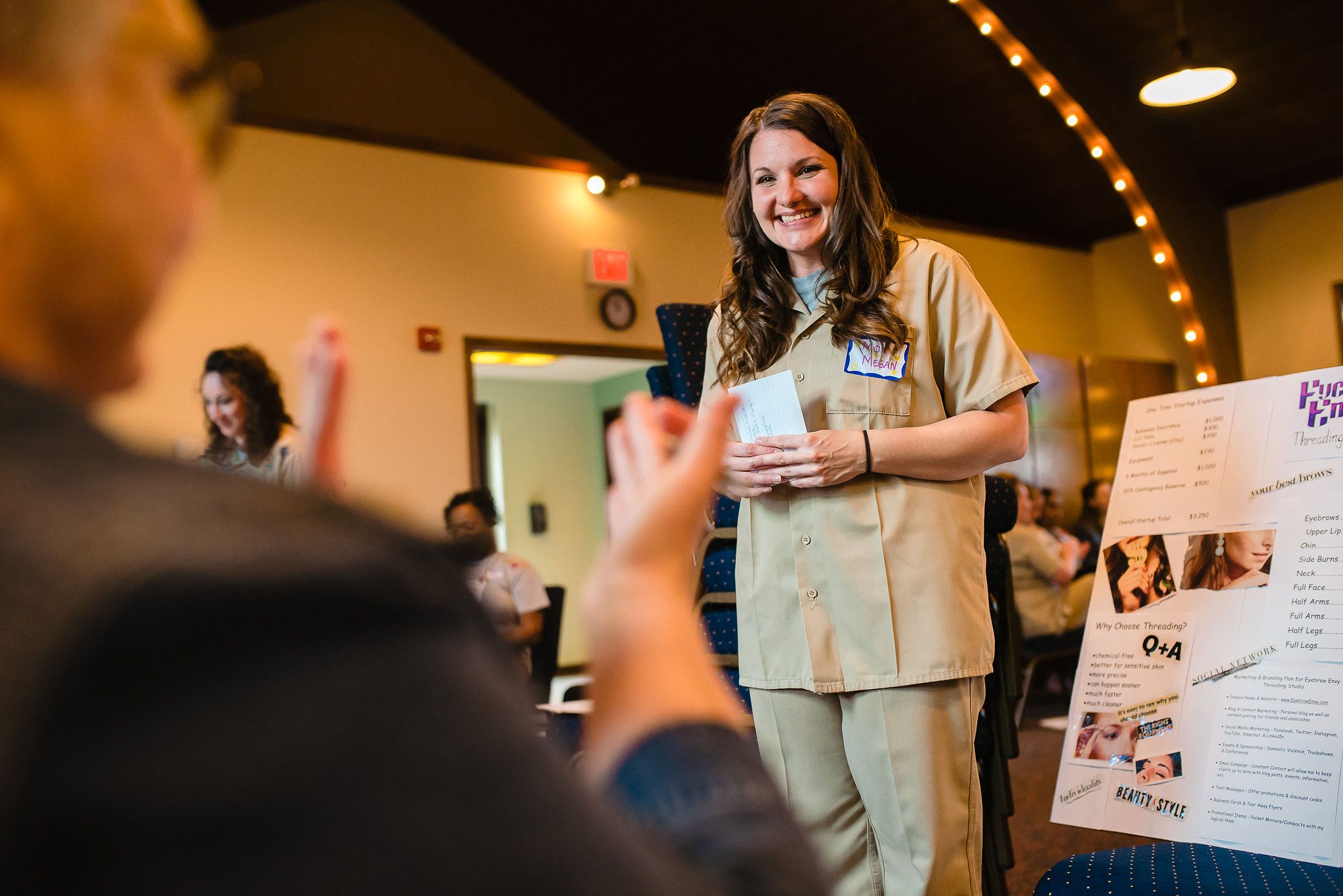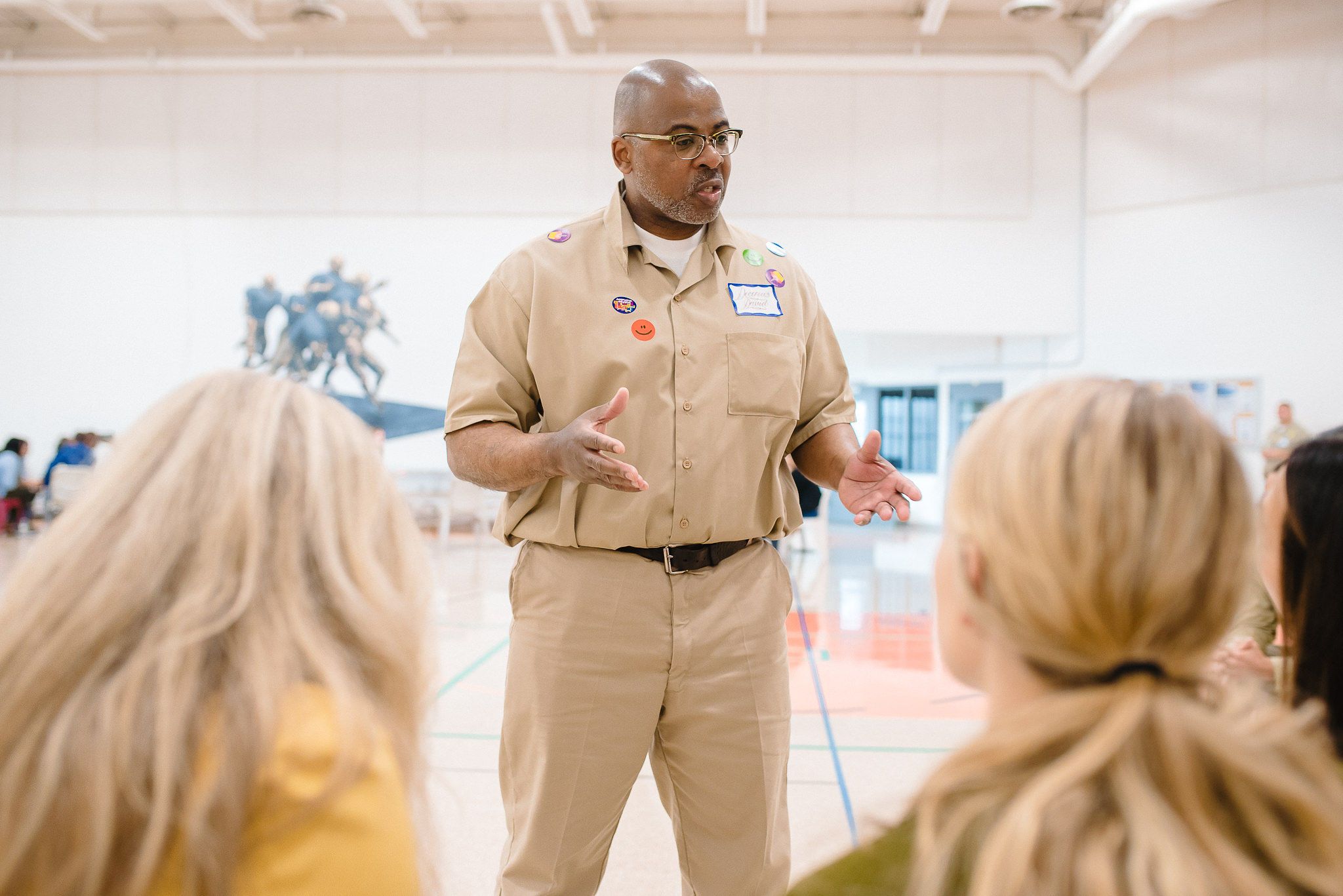 Why a Business Pitch Competition?
Preparing for a business pitch competition encourages our Builders to think critically about every aspect of their potential business. Through such a challenge develops a new thought process and the ability to confront difficult questions on the spot. It requires one to think about finances, marketing yourself, and hurdles that can come along.
Additionally, preparing for a pitch competition requires Builders to speak on their skillsets, strengths, and most importantly - ask for something. Asking for an investment, contingency fund, mentorship, or general advice can be hard for anyone. However, requiring our Builders to have an "ask" in their pitch gives them the practice and confidence they need to ask for help when they need it - not just for a business idea, but in life and reentry.
While it's hard to predict the amount of Builders that will start their own businesses after incarceration, developing an entrepreneurial mindset is worth its weight in gold. It's more than just developing a business plan - it's developing a way to take on challenges and finding ways to propel yourself forward.
A RISE Business Pitch Competition is a powerful and special event! If you or someone you know would like to volunteer at one of our in-prison events, we'd love to have you!!
Check out our upcoming volunteer dates!
---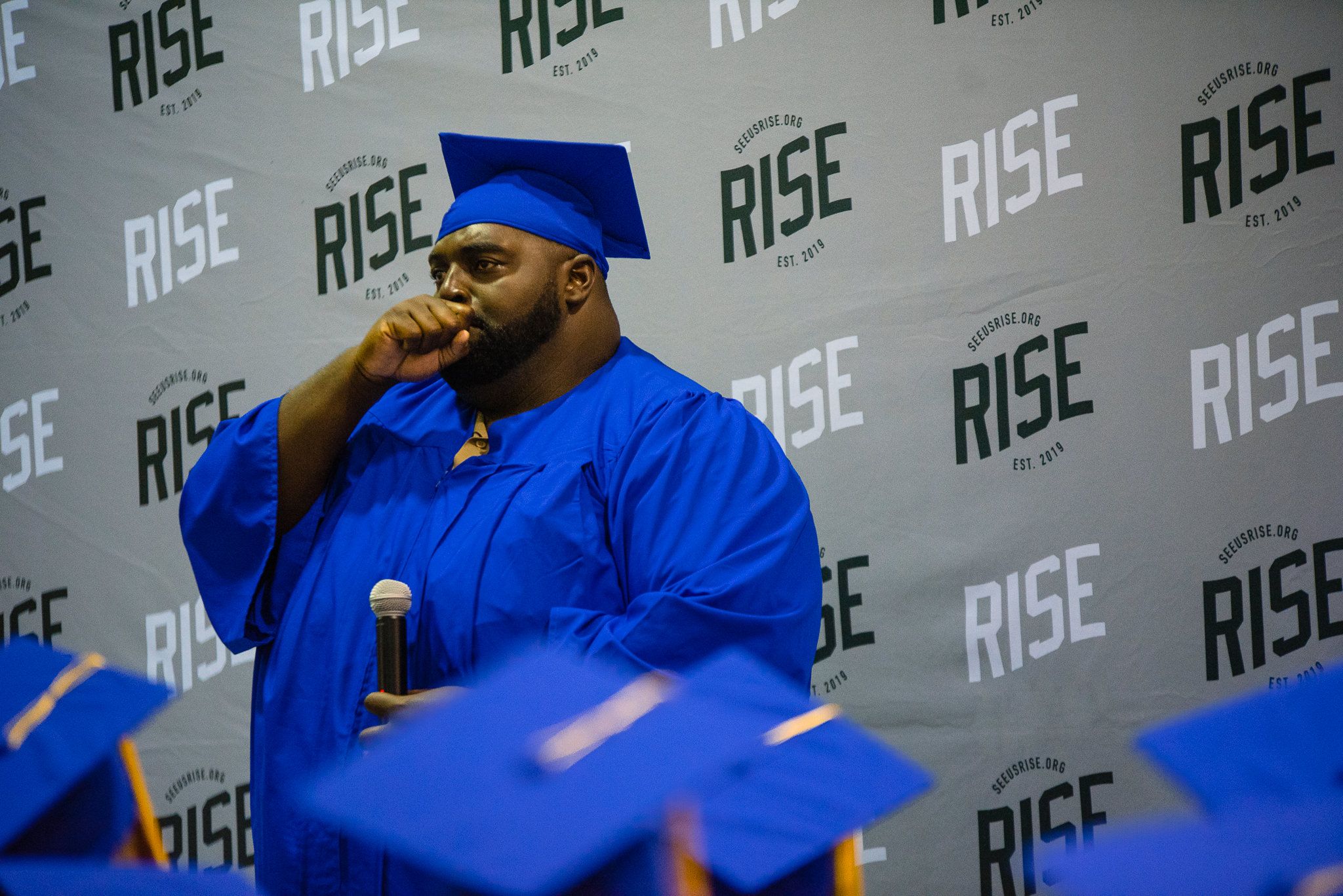 Before Tuesday's Business Pitch Competition and graduation, RISE had graduated 314 program graduates within the state of Nebraska. 314 men and women all looking for a different path...a different opportunity. Yesterday we added a powerhouse of 12 to that number who desired more than just an opportunity, but a change. A new life.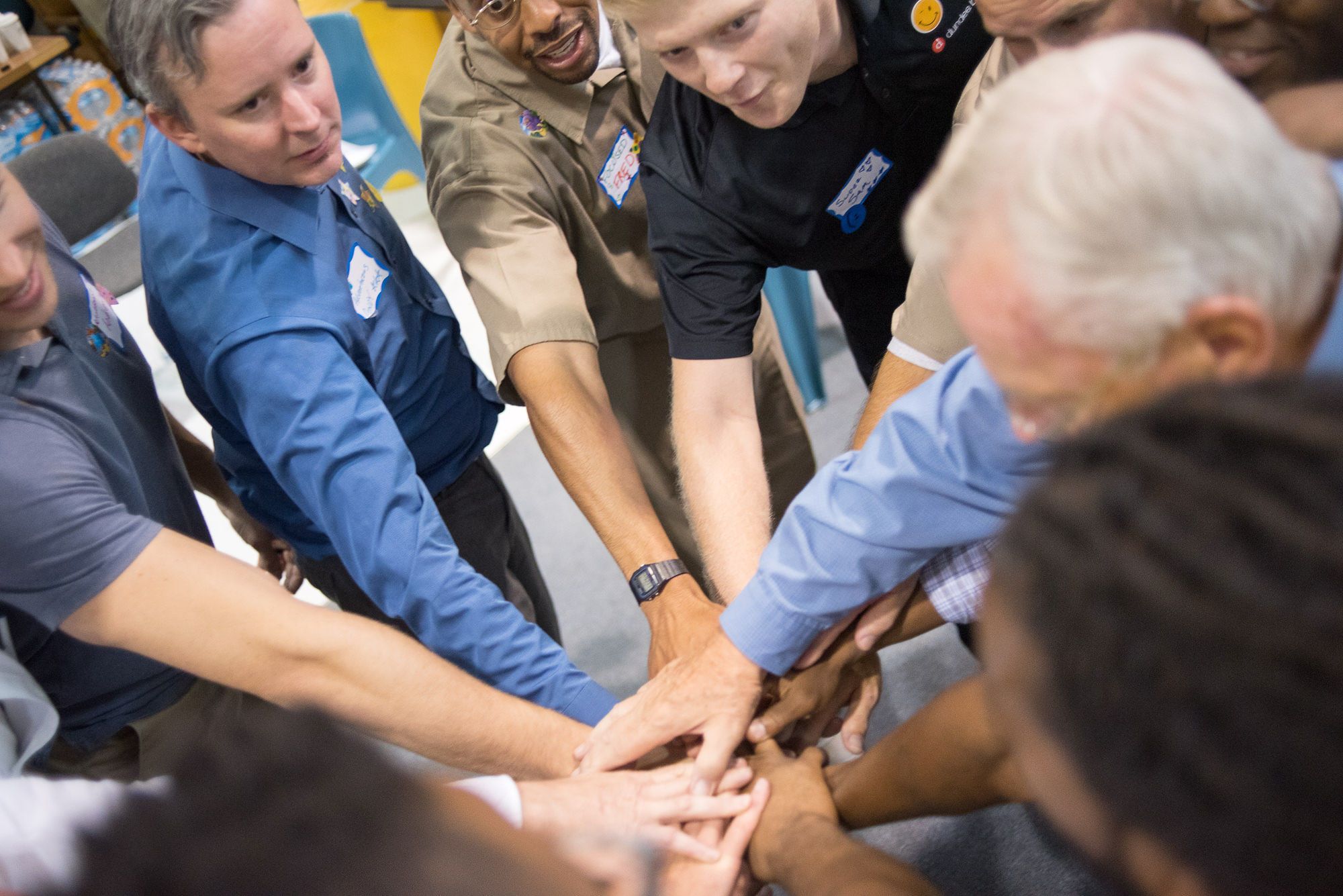 We're often asked for the success stories of our Builders. And we get excited to profess that we have an abundance of them! While our reentry program teaches a lot about business ideation and entrepreneurship to the men and women in the Nebraska prison system, it also teaches forgiveness, accountability and ways to heal families. And this is where we set our bar of success.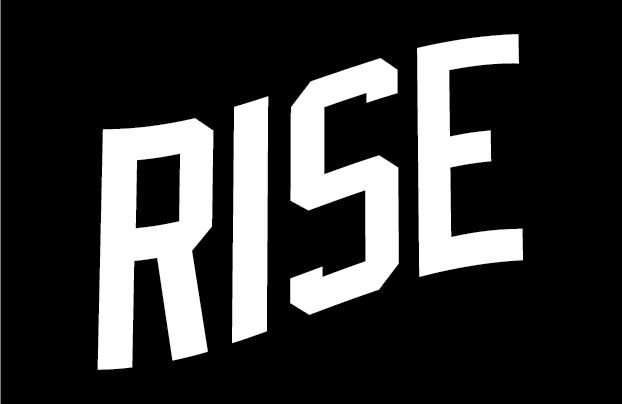 We stand in solidarity with the Black community and mourn the countless loved ones lost to senseless violence. For many, we will never fully understand, but we stand with you, see you, support you, and will amplify the voices of the unheard.