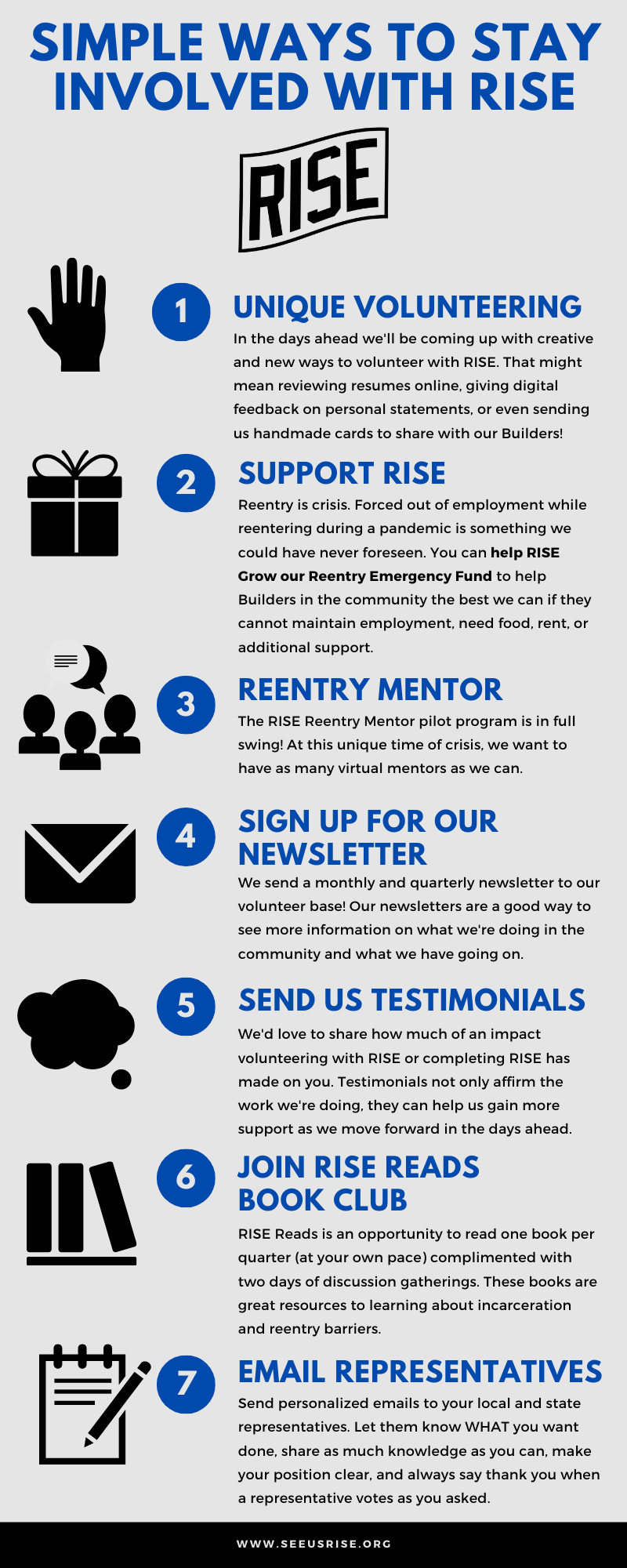 Reentry During a Pandemic
As a community we're navigating unchartered waters. RISE is no exception.
While the days ahead are ever-changing and can only promise to be different from here out out, we're making moves to adapt and pivot. We need your help and support to do so!
At this time, in-prison events scheduled for April are now cancelled and we anticipate more in the next few months ahead. We are in close contact with the Nebraska Department of Correctional Services (NDCS) and following suggested state guidelines and will continue to do so as we move forward. The health and safety of volunteers, Builders, staff, and the NDCS will always remain our top priority, regardless of the circumstances.
Reentry is Crisis.
Reentry is crisis. Financial strain, employment, family dynamics, and transportation are difficult barriers on a day when there's not a worldwide pandemic. Right now, reentry is at a level of crisis we could have never foreseen.
RISE Alumni in the community are being forced into unemployment or are still struggling to find stable work. The financial struggle is great. Additionally, many rely on public transportation, substance support, and medical care, yet EVERYONE is advised to avoid them at this time.
RISE is dedicated to growing our Reentry Emergency Fund to help Builders in the community the best we can if they cannot maintain employment, need food, rent, or additional support. You can help us do that.
Reentry doesn't start when people coming out of incarceration hit the street. It truly is an inside/out process. With RISE's program, reentry planning begins on the inside - not just inside prison with an entrepreneurship facet. But on the inside with character development, learning how to ask for help (which all humans need right now), and how to use your strengths to overcome adversity.
It's safe to say that all people, everywhere, are also learning these things right now.
With that, RISE needs your support. Our Builders need your support.
7 Simple Ways to Stay Involved with RISE
Unique Volunteering. While our in-prison program is adapting to this change, volunteering opportunities will look a little different in the days ahead. We're anxiously awaiting our first event once this time has passed and can't wait to have you back! At this moment we are developing new, creative ways to volunteer as our community practices social distancing.

You can register for unique volunteering opportunities here! We're exploring options like digital feedback for resumes and personal statements or even sending RISE words of encouragement to share with our Builders.
(We do request that any and all support for RISE Builders be done through us directly to maintain your in-prison volunteer credentials.)
 
Support RISE. As we mentioned above, reentry is crisis. You can help RISE grow our Reentry Emergency Fund through financial gifts to aid graduates in the community through this unprecedented time in the reentry process.

Gifts, large and small, make a massive impact on our community. And even at times as such, we must help people reenter the community well. With facilities already over-capacity, a pandemic affecting recidivism is something facilities would struggle to handle.
 
Reentry Mentor. At the beginning of 2020, we launched a Reentry Mentor pilot program. This program assigns a mentor to a RISE graduate experiencing reentry back into the community to provide relational support. Reentry Mentors address some of the needs graduates may have and walk alongside them at this time.

With the increasing need of relational support, we're looking for more volunteers to offer their time for weekly phone and digital conversations. ALL interested parties are encouraged to apply here!
 
Sign up for our Newsletter. Stay current with RISE through our various newsletters! Our newsletters are a good way to get information on our program (which will be evolving as the days pass) and what we're doing in the community. Sign up for our newsletter here!
 
Send us Testimonials. Testimonials from our volunteers, supporters, and graduates not only affirm the work of RISE, but can help us gain support as we move forward in the days ahead! You can send us testimonials here!
 
Join RISE Reads. RISE Reads is a book club launched in January 2020. Casually read books chosen each quarter and help us embark on our first virtual discussion gatherings! Join RISE Reads here.
 
Email your representatives. NOW is the time to request action for those impacted by incarceration. One thing you can easily do from your home is send personalized emails to your local and state representatives. Let them know what you want done, share as much knowledge as you can, and thank them when they've voted in the direction you asked. If you have interest in how can can be of help with advocacy, please visit our website, here!
RISE provides reentry assistance to seven facilities in the Nebraska prison system, the second most overcrowded system in the United States. If you'd like to receive more information on our program, get in touch with us!