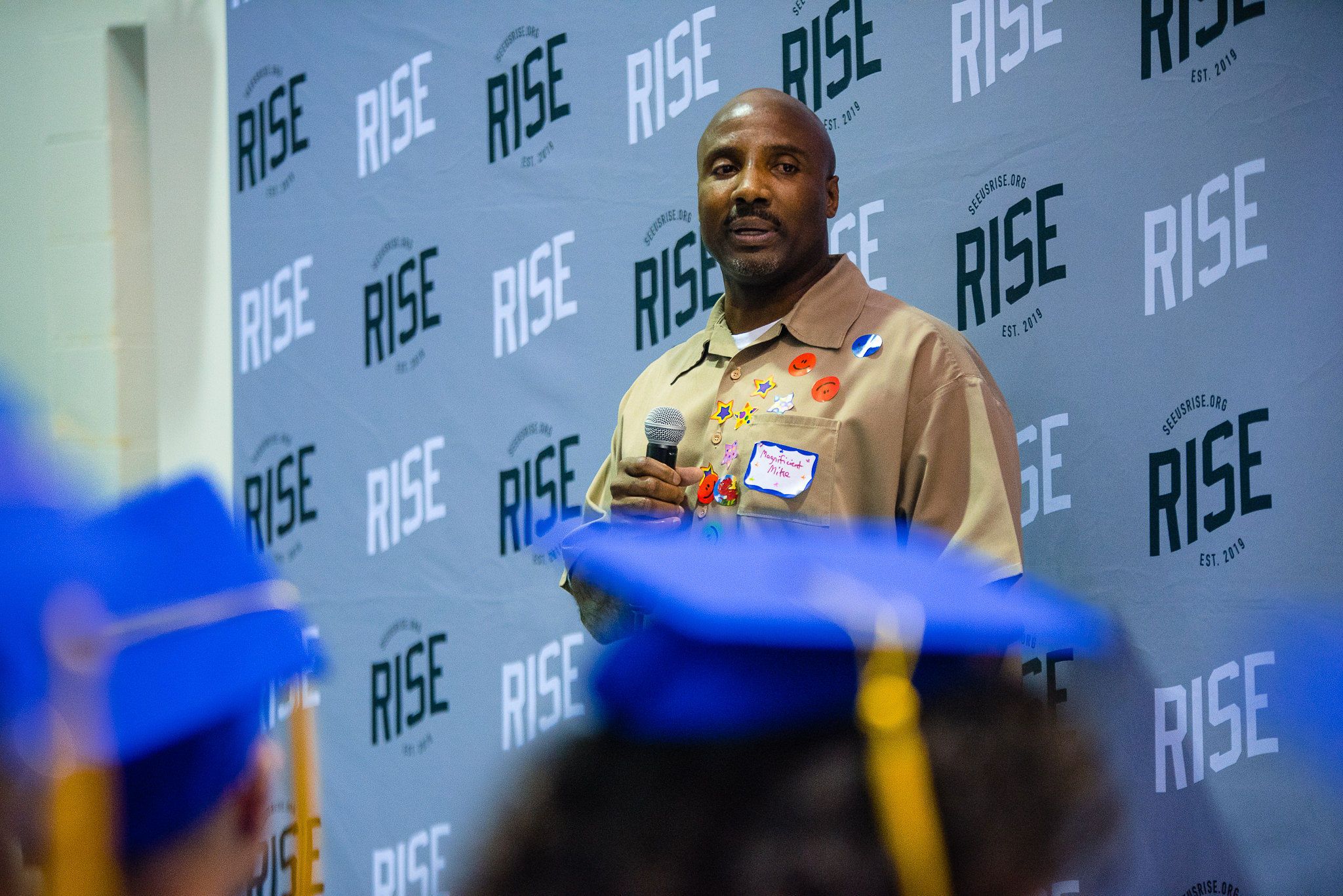 RISE Peer Facilitators are an essential asset to our program inside each facility. As graduates of the program, participants apply and interview to take on this leadership role for upcoming cohorts while still incarcerated.
Peer Facilitators work directly with Builders, teach classes, create class activities, lead discussions and empower participants to cross the finish line. They take such pride in their work and we appreciate them greatly. They truly embody the RISE value of "withness". 
As you all know, RISE in-prison events are on hold due to the global pandemic hitting hard across the world. Not only is this disappointing for our dedicated volunteer community, it's devastating to our Builders on the inside.
For many, connecting with the RISE community is the only connection they have to the outside world. They've also worked so hard to get to this point in their programming. Having to be cut short of their experience is heartbreaking.
RISE truly matters to participants inside.
We found out this week that Peer Facilitators made a special request at one of our serving facilities. Not only did they ask for permission to create their own internal Coaching Day, they asked for former RISE graduates still inside to be allowed to give additional feedback to the current cohort based on the feedback received from you, our volunteers!
We are so deeply touched that they are invested in our mission and the future of these Builders. Coaching Days aren't just a fun one-day event. They are a huge milestone in building a future through this program.
Through the gracious help of their staff sponsor, RISE Peer Facilitators have planned out different coaching rotations to be done by them with social distance to provide their cohort with as much of a Coaching Day feel as they can.
And to sweeten the pot, Peer Facilitators also requested they be allowed to provide the cohort items from canteen like chips and cookies for this day. Our Peer Facilitators are willing to give up their own food to give to the current cohort of Builders! Not only is it amazing that they asked to make a special event and share their own expensive items, they were also given approval.
So, on May 4th, this incredible group of Peer Facilitators and RISE Alumni are making their own event happen. We are so proud of them, it brings us to tears. We wish so badly that we could be there with them, but their safety is our top priority. We've heard so many say, "RISE isn't just a class. It's who we are." We are inspired by them every single day.
They are gracious, creative, resilient, and amazing. We cannot wait to hear how it goes.
To our beloved volunteers: RISE Builders and Peer Facilitators have learned so much from you. You are incredible examples of what it means to give your time and thoughtfulness to all people. They know how important you are and are ready to channel their inner RISE volunteer.
Thank you, from the bottom of our hearts.
###
RISE serves the 2nd most overcrowded prison system in the United States - right here in Nebraska. RISE is a 6-month program focusing on job readiness, entrepreneurship and character development.
If you're curious about our Nebraska nonprofit changing lives within the Nebraska prison system, we'd love to hear from you! Email us or you can join our mailing list!