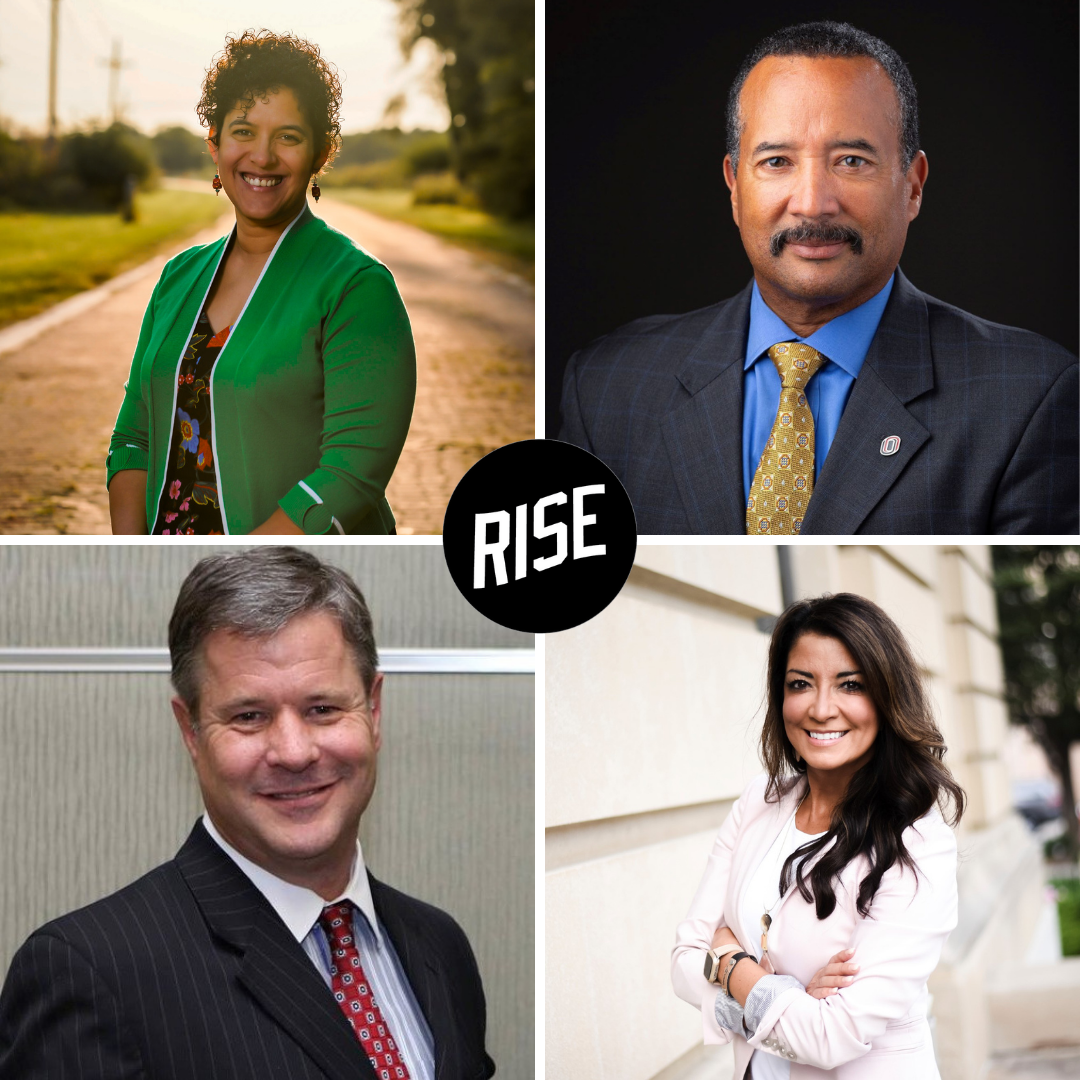 RISE is thrilled to introduce our newest board of directors.
Naomi Hattaway
Naomi Hattaway is passionate about community building, diversity and accessibility in online and physical spaces, and affordable housing so folks can thrive, not just survive, in the places they call home. The founder of I Am A Triangle, an international social network, and 8th & Home Relocation, a nation-wide network matching families on the move with Realtors, Naomi now consults nonprofits and organizations on inclusive program design, equity and housing solutions.
Naomi's life delivers a myriad of experiences ranging from being the eldest daughter of one of the first Black engineers for Union Pacific Railroad, spending the majority of her childhood education being homeschooled, before it was legally recognized in the State of Nebraska, growing up in the late 1970s in a biracial family, and experiencing the harm of the justice and prison system through the conviction and sentencing of several loved ones.
In addition to raising three amazing humans, and providing a home to five four-legged rescues, Naomi is also running for City Council in Omaha, with a bid to represent District 6, the central section of West Omaha. You can find her on Instagram, Twitter and Facebook via @naomihattaway.
Dr. Mark Foxall
Dr. Foxall is currently a Professor in the School of Criminology and Criminal Justice at the University of Nebraska Omaha where he received his Ph.D. 
Dr. Foxall joined the staff at the Douglas County Department of Corrections in 2000 and began serving as their director in 2011, a post he held until his retirement in 2018. Prior to that, he served as a police officer with the Omaha Police Department and as a special agent with the Federal Bureau of Investigations.
He has won numerous awards including an Excellence in Public Service award from the University of Nebraska Omaha; a Director's Award for Outstanding Contributions in Law Enforcement from the Executive Office of United States Attorneys, Department of Justice; and the Administrative Award of Merit, American Correctional Association, Douglas County Department of Corrections.
W. Todd Wallace
W. Todd Johnson is a cogent thought leader and community-growth professional proficient in organizational leadership, team building, workforce psychology and the science of strengths-based career development. He is past global channel leader of entrepreneurship and job creation at Gallup, and is current senior vice president of economic development at the Greater Omaha Chamber. In his duties as chamber SVP, Todd leads the Greater Omaha Chamber Economic Development Partnership, a seven-county, two-state collaborative that accounts for more than 44 percent of Nebraska's population, and more than 60 percent of the state's GDP.
Todd has lived, worked and traveled worldwide for more than 25 years. A graduate of Columbia University, Todd holds an M.Sc. from the London School of Economics. He has devoted decades to the global study of job creation; and, managed Gallup's diverse, extensive Latin American operations for more than 10 years.
During his Gallup tenure, Todd led the acquisition teams for organizations in Spain and Brazil, resulting in exponential growth and increased corporate performance.
While Todd's business acumen has helped assist countless organizations to foster employees who bring their "best selves" to work, it is his commitment to community for which he is most often celebrated, this includes a host of volunteer opportunities and board leadership. 
Todd has served Greater Nebraska through associations with Accelerate Nebraska, Aksarben Foundation, Creighton Prep, Creighton University, Blueprint Nebraska, Jesuit Academy, RISE and the UNO College of Business, among others.
An avid athlete and competitive distance runner, Todd has completed 25 marathons in 15 countries. He lives in Omaha with his wife Mary and three adult sons, Ed, Charlie and Sam.
Ava Thomas
Ava Thomas is the President and Publisher of the Lincoln Journal Star and has over 25 years of experience in the industry. Ms. Thomas began her career with the Journal Star in 1995, while attending the University of Nebraska-Lincoln. Over the next 20 years, she worked her way up from a classified ad-taker to the president of the company. Along with her duties in Lincoln, Thomas is also a regional group publisher for Lee Enterprises, the Journal Star's parent company.  She oversees 11 other newspapers and websites in Nebraska as well as Agricultural publications and sites in 12 other States.  
Thomas is a founder of the Inspire Women's Leadership Awards and 100's of Women Who Care Lincoln.  She is also co-chair of the Mayor's Economic Recovery Task Force and on the board of directors for the Lincoln Chamber of Commerce, Lincoln Partnership for Economic Development, United Way of Lincoln and Lancaster County and the Lincoln Community Foundation.