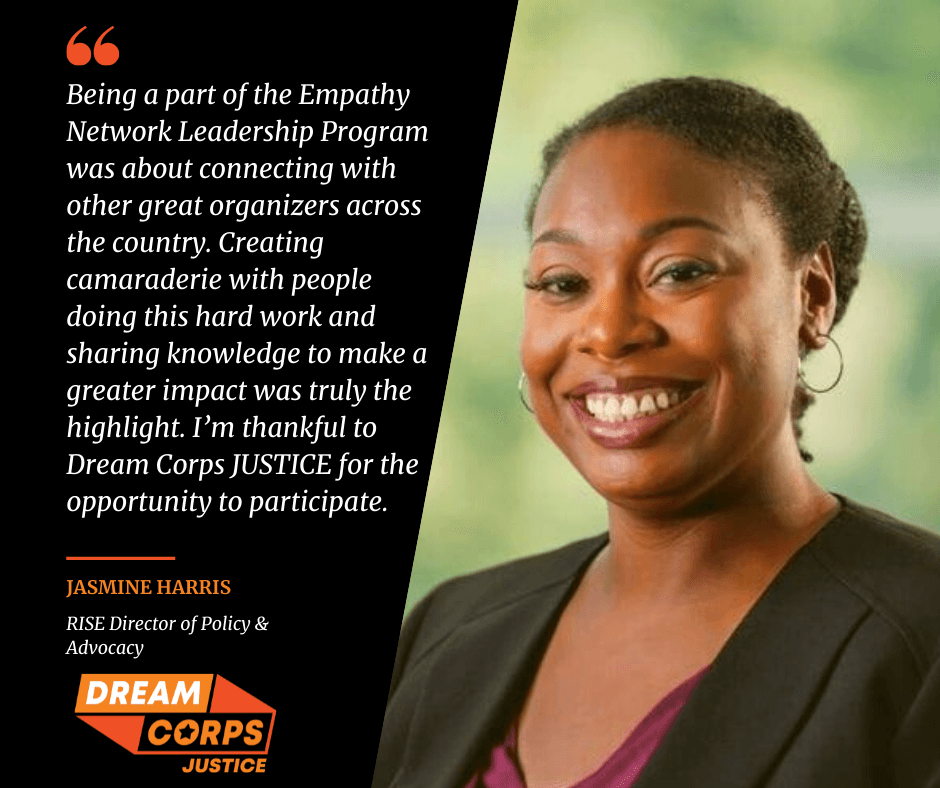 On February 16, 2022, Jasmine L. Harris, RISE's Director of Policy and Advocacy, graduated from Dream Corps JUSTICE's first-ever Empathy Network Leadership Cohort. The 6-month training program was modeled after strategies Dream Corps JUSTICE used while working to pass the First Step Act in 2018; the bipartisan legislative effort across the country to improve criminal justice outcomes and reduce the federal prison population.
Jasmine was chosen as the only one from Nebraska to participate in the national leadership program. The cohort included twenty formerly incarcerated and justice-impacted individuals  from 17 states that joined bi-monthly to grow their advocacy and organizing skills. These lessons on legislative, campaign, digital and media tactics helped inform their justice reform efforts to create change in their communities.
"Being a part of the Empathy Network Leadership Program was about connecting with other great organizers across the country. Creating camaraderie with people doing this hard work and sharing knowledge to make a greater impact was truly the highlight. I'm thankful to Dream Corps JUSTICE for the opportunity to participate", stated Jasmine. 

Sony Music Group has taken an interest in the work of Dream Corps, founded by Van Jones. Because of the Empathy Network Leadership Program, Sony Music Group has donated $500,000 from its Global Social Justice Fund for Dream Corps to expand the advocacy and organizing training. You can read the press release here.