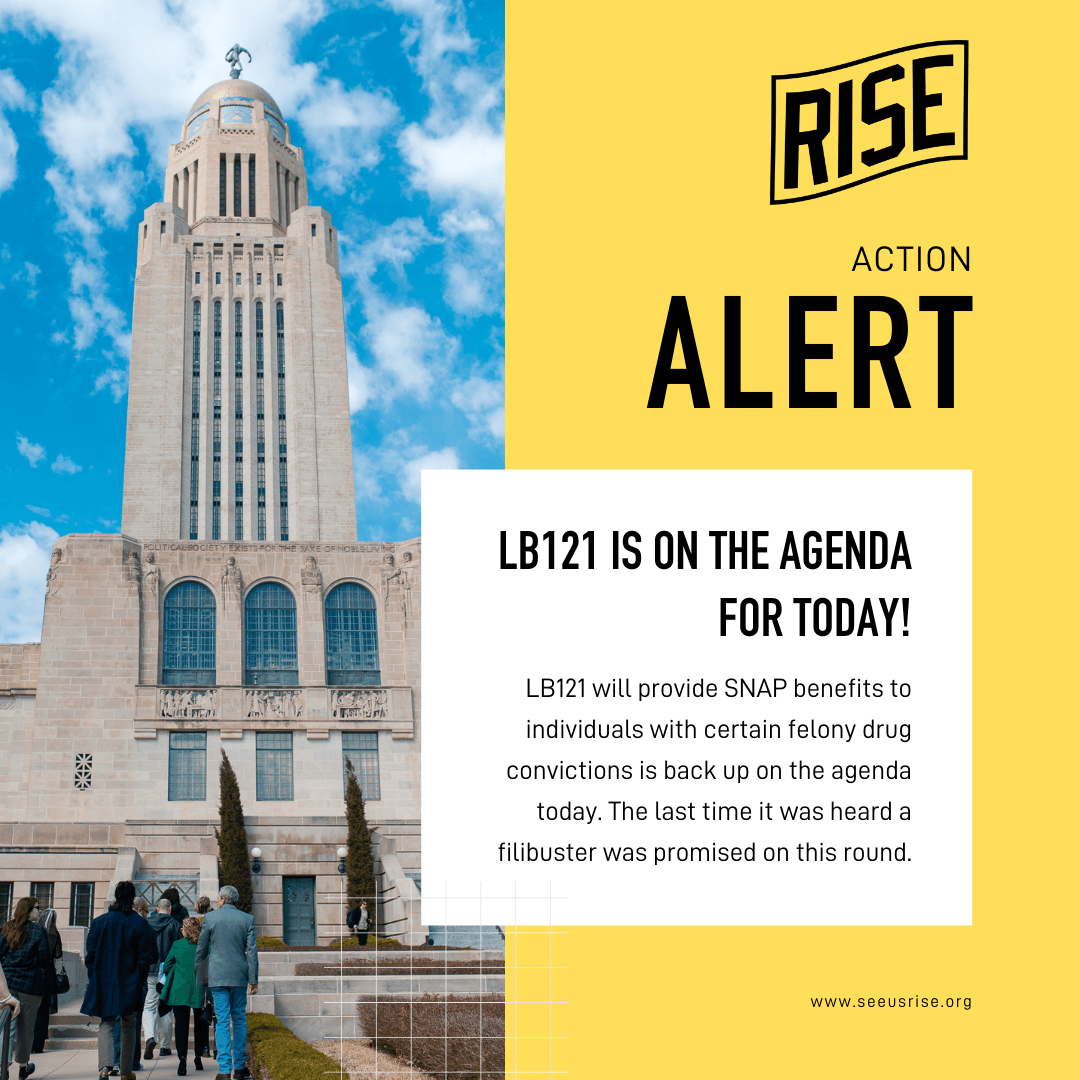 Last week was fraught with ups and downs within the legislature for criminal justice reform advocates. From vetoes to the stalling of key legislation, senators found themselves at the center of determining the future of Nebraska's criminal justice landscape. 
Governor Vetoed Overcrowding Contingency Funding
On Monday, April 4th, while signing the three budget bills for the state, the Governor line-item vetoed significant items that the Appropriations committee worked hard to include in the budgets. One of these items was the $15M set aside in the Overcrowding Contingency Fund.
These funds would address reentry and restorative justice programming for adults and youth in the corrections systems in addition to  transitional housing, wrap around services, facility based programming and family support. It was designated to go into the Vocational & Life Skills Programming Fund. You can read the veto letter here.
LB920 Stalled After Not Reaching Closure
The Nebraska Criminal Justice Reinvestment bill (LB920) did not have enough support to end debate and take a vote on the bill on Wednesday morning. This outcome in the debate of a bill technically keeps it from continuing in the legislative process. Many senators worked with the executive branch, county attorneys and others to work on compromises that would keep the integrity of the bill and answer concerns from others. Those conversations did not net in any agreements that would help this bill become law. 
Senators Override the Governor's Veto
On Thursday morning, the chair of the Appropriations committee submitted a motion to override the Governor's line item vetoes on three of the budget bills. LB1012, which appropriated the Overcrowding Contingency Fund, received overwhelming support during this process. Senators voted to override the governor's veto with a 42-3 vote. '
Let's thank our senators for standing up for organizations to receive funding to help with reentry, restorative justice, transitional housing, family support and other important services for individuals impacted by the criminal justice system. 
What's On the Horizon?
The session is winding down with only four legislative days left. There are many bills that are still being debated on general and select files. Some of the other bills that we have been following are still progressing. 
LB917 which will give tax credits to employers who hire people with felony convictions, was placed on Final Reading after an amendment to reduce the tax credit from twenty-five percent of wages paid by employers down to ten percent was approved.
LB709 which will place guidelines for occupational boards in regards to licenses and certifications for people with felony convictions, was heard on General File Friday. The allotted time for other agenda items allowed for only two hours of debate and the bill will sit on General File until it is scheduled again. 
LB121 which will provide SNAP benefits to individuals with certain felony drug convictions is back up on the agenda today. The last time it was heard a filibuster was promised on this round. 
Today's session (April 11, 2022) may go as long as midnight. You can tune in here to watch. 
What Can You Do?
Contact your senator and thank them for their vote to override the veto on the Overcrowding Contingency Fund line item veto that will support organizations that do reentry and restorative justice work. 
Contact your senator and ask them to support LB121. Click here for the fact sheet. 
Contact senators Lathrop, McKinney and J. Cavanaugh to thank them for their tireless efforts to find a pathway for LB920 to succeed.