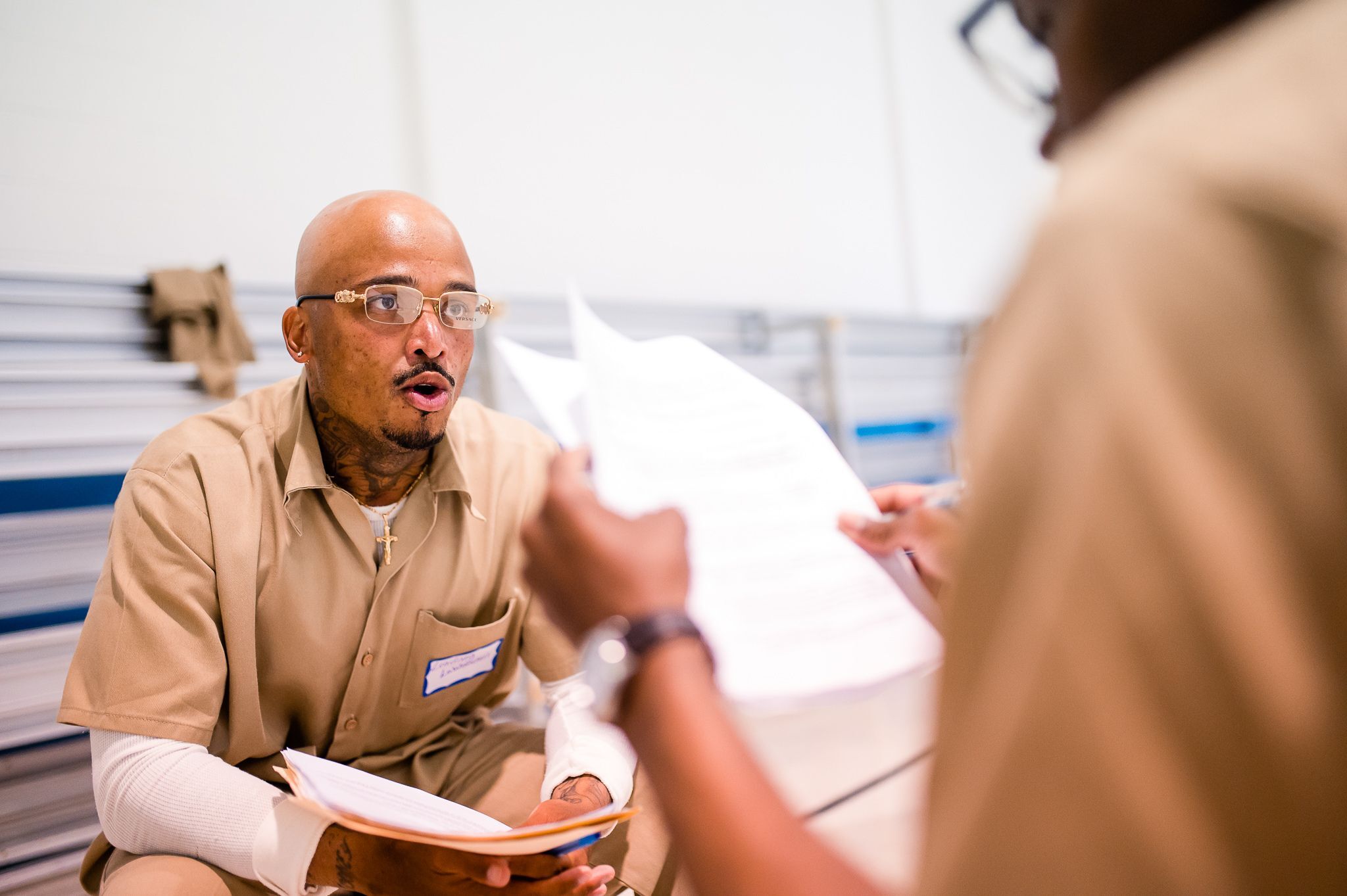 RISE Programs 2nd Quarter Update for 2022
The first in-unit cohort of the RISE In-Prison Program at the Nebraska State Penitentiary continues to be progressing well. This is a group of men living in an intentional learning community and going to class together. They have been able to go deep and explore challenging ideas from their past and build new pathways for their futures including: shifting their view about the use of violence to address problems, challenging their assumptions about shutting down emotions, and asking for help.
They completed a Reentry simulation in class which helped them better prepare for the challenges of Reentry and discuss resources and tools available to navigate Reentry and recently completed the Business Coaching Day.
Because this group meets 5x per week, we have been able to do more activities and explore topics more deeply. RISE partnered with the Nebraska Writers Collective, who is leading an 8-week creative writing and poetry workshop meeting every Friday as part of our class.
This has provided a creative avenue for program participants to explore topics covered in class more deeply and process their pasts while building a vision for their futures. We look forward to also incorporating Lutheran Family Services' Nurturing Fathers class into the NSP class.
The Reception and Treatment Center (RTC, formerly LCC), has also been going well and recently had a powerful Coaching Day and are now diving into business concepts. This has been a unique class because many of these participants have longer sentences and are grappling with what it looks like to make meaningful changes in their lives now. This has led to some deeply meaningful conversations about being ready for change, creating a plan for your career path starting while incarcerated, and reconnecting with family.
The cohort at the Nebraska Correctional Center for Women has seen individuals radically shift in their thinking and how they perceive themselves, their gifts and talents. They are gearing up for a Coaching Day in August and look forward to receiving volunteer coaching on interview skills, personal statements and their preliminary business ideas.
The most recent cohort at the Omaha Correctional Center graduated in mid-July. This was such an engaged and energetic group who worked hard to refine their pitches.
We continue to stay in close contact with Tecumseh (TSCI), however, due to ongoing staffing shortages and modified schedules, we haven't been able to resume classes there. However, we are hopeful.
RISE BUSINESS ACADEMY
We're so excited to announce Dr. TJ Dickson as the new Director of this program! TJ has been part of the RISE team for 3.5 years and served as a Prison Program Associate with her primary focus on teaching at OCC, TSCI, and CCC-O! She brings with her 5 years of experience leading a business development program at a previous organization where she provided education, micro-lending and business coaching to new business owners. TJ has owned two businesses, has a background in accounting, and currently coaches entrepreneurs in starting and growing their businesses.
Contact Us
We want to hear from you! Reach us here.