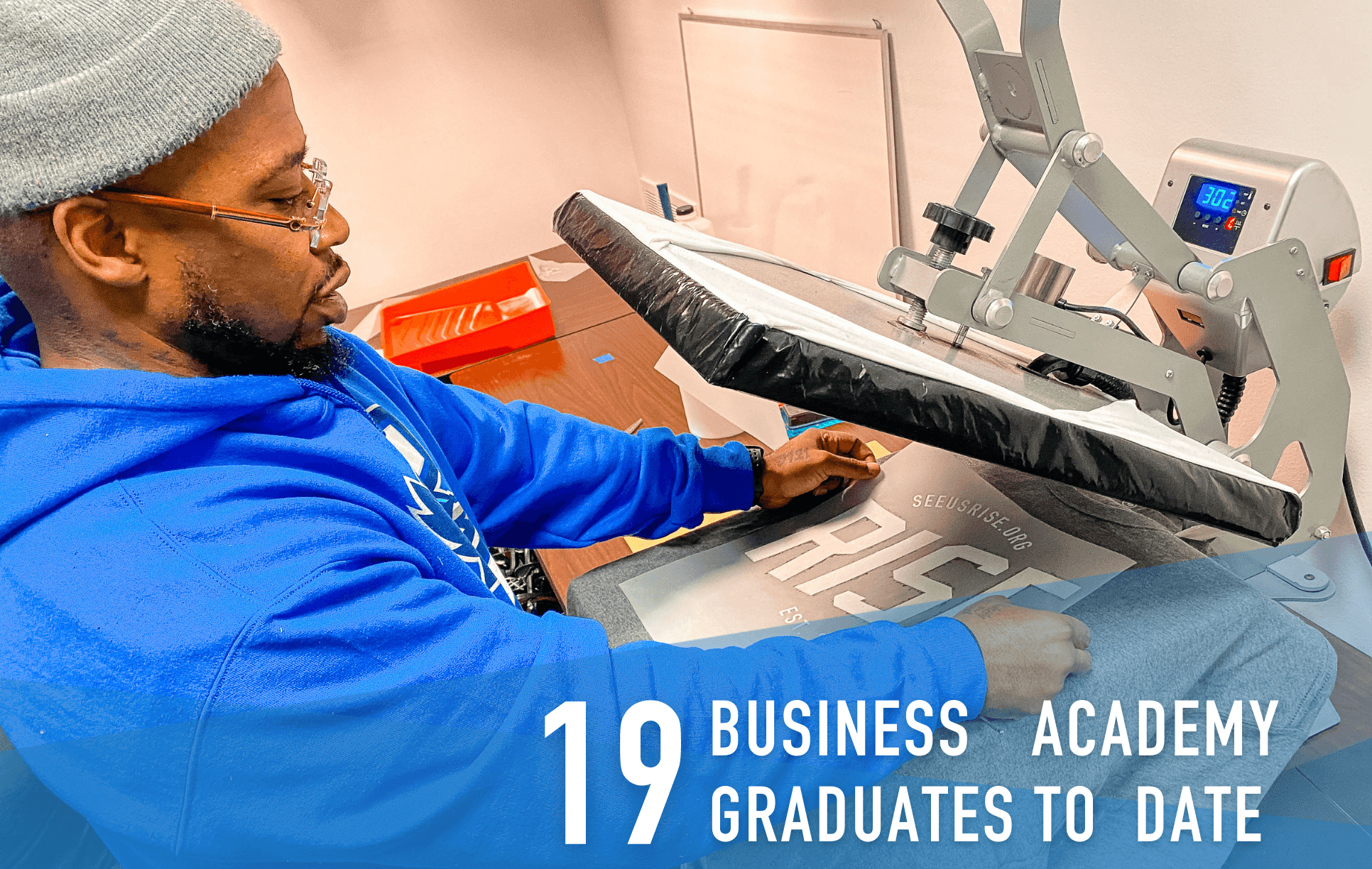 They had every reason to say, 'I can't be anything more than what society deems me to be.' But they still said 'I'm going to dream,'...They came with heart, and they care about humanity and their community — A community that's sometimes not here for them, but they still want to give back.
Dr. TJ Dickson
In 2022 we held two RISE Business Academy (RBA) cohorts and one graduation with seven graduates. 11 of our 19 program graduates currently have their businesses in operation.
Dr. TJ Dickson became the Director of the RBA in July 2022. She facilitated Cohort 5 and graduated the largest cohort thus far.
We held hybrid classes for the first time with participants joining in-person in Omaha and on Zoom from Lincoln, Bellevue, and as far away as Oregon and California. The RBA is a 12 week program that takes place one evening each week. Each year we plan to hold three hybrid cohorts starting in January, May, and August.
Our challenge during Cohort 5 was participants balancing family life and entrepreneurship. There remain countless barriers for system impacted people even if they've been back in the community for a while.
We know RBA participants also need case management support, character development curriculum and access to programming like the RISE Youth and Family Program.
Additionally, for our participants who live out of state, we are exploring how to serve them with more resources in their local communities.
Small business funding is an ongoing need for graduates lacking resources to launch their businesses in addition to growth opportunities for their existing businesses. RISE is establishing a micro-loan fund in 2023 to address this need. We are seeking additional investments for this fund.
During the year we had some great full circle moments:
Holding the Cohort 5 Business Pitch Competition and Graduation at a local event space managed by a previous In-Prison Program graduate.
Another In-Prison Program Graduate completing the RISE Business Academy and has launched his business.
Two RBA Graduates had loved ones also graduating from the In-Prison program the same year.
These moments reflect the real inside-out approach RISE takes to serve people with lived experience.
Businesses Launched and Running out of the RISE Business Academy:
Wideman and Walker Restoration and Flooring
Q.U.E.E.N.S Butterfly
Family Ties Transportation
Irv's Sewing LLC
Rebuilding the Past
Hope Virtual Services
Maid to Clean
Rock Solid Landscaping
E'rbody Eats / Vivid Images, LLC
Out of This World Automotive Services
Fermented Felon
The next cohort of the RISE Business Academy starts on May 10, 2023! The deadline to apply is May 1st. Reach out for information, here.