2020 Quarter 1 Volunteer Update
By Chantal Randall, Volunteer Relations Manager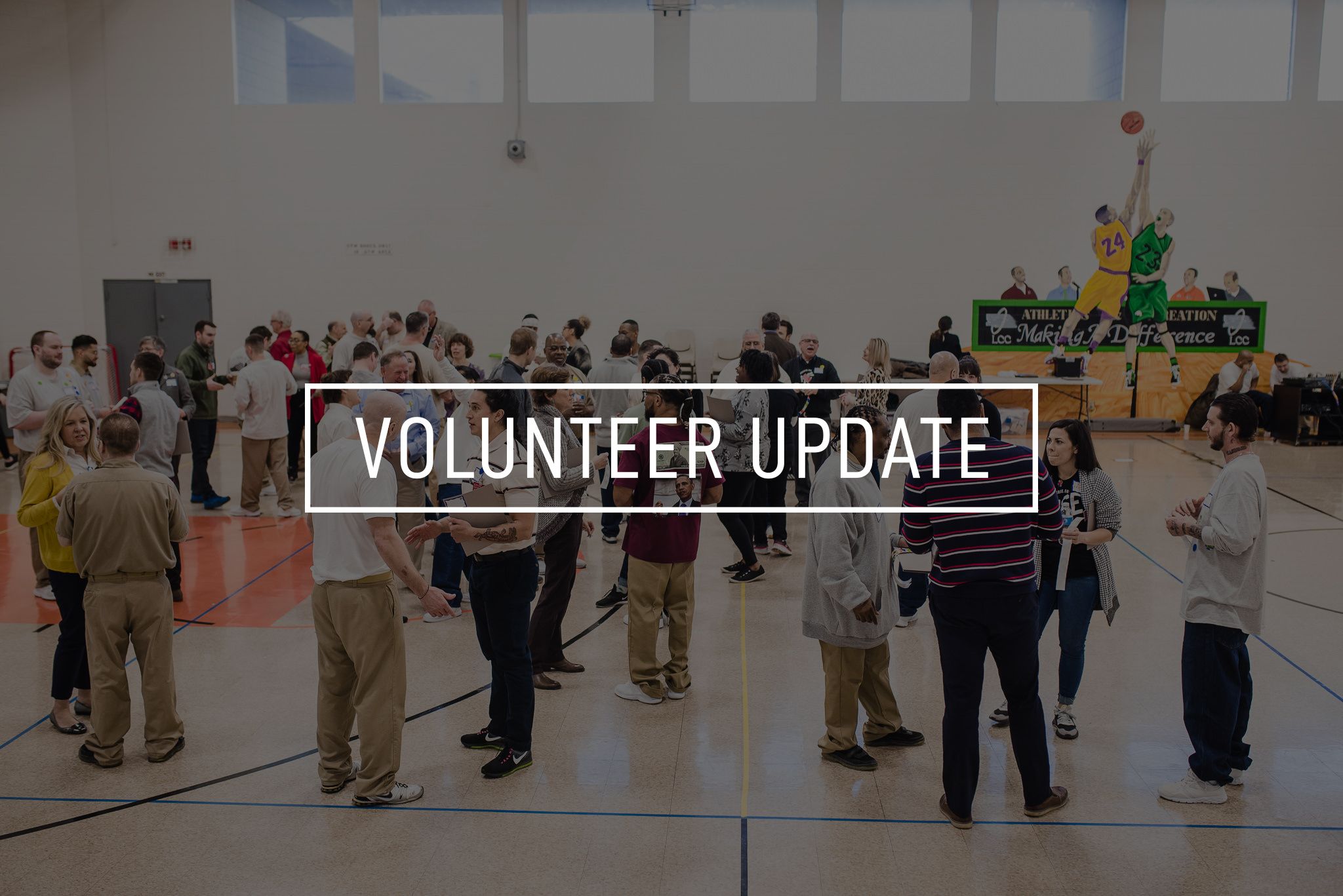 The RISE Community of Builders, Volunteers, and Staff are some of the toughest people we know. Our relationships with each other have been rooted in empathy and hope amid great adversity. Because of this, it was no surprise to us that so many volunteers quickly responded to the call to serve Builders in unique ways amidst the COVID-19 Crisis!
As staff and Builders learn to navigate this new, temporary "normal", we are working on creative ways to keep everyone connected. An immediate way to support Builders, both on the inside and out, is to share any words of encouragement that are put on your heart via email with us. We will make sure to pass them on to the Builders! Volunteers have also offered to review Builders' resumes and personal statements online and provide feedback. We are hoping to have this underway at the end of April as Builders are completing these assignments. We are also exploring having volunteers record career-specific tutorials for our in-prison classes. Stay tuned!
RISE has established an Emergency Reentry Fund in anticipation of providing assistance to our graduates that have returned to the community or who are returning amid this turbulent time. Reentry in itself is a crisis. Trying to transition successfully during a worldwide crisis is unchartered and twice as challenging. RISE will continue to aid returning Builders with 'business-as-usual" services, while being equipped and aware of the special needs of our Builders that are sure to arise as time goes by during this COVID -19 crisis. 
As mentioned above, RISE is a community and we have to take care of all parts of the whole to be healthy. That includes you as a RISE volunteer! We couldn't do this work without you. Please join us for RISE and Shine Online: Zoom Edition Friday mornings at 8 am and RISE Reads book club! We look forward to connecting with you, especially during this time of isolation and social distancing.
Thank you in advance for your continued support and patience. Be safe, be well.
Virtual Modified Coaching Event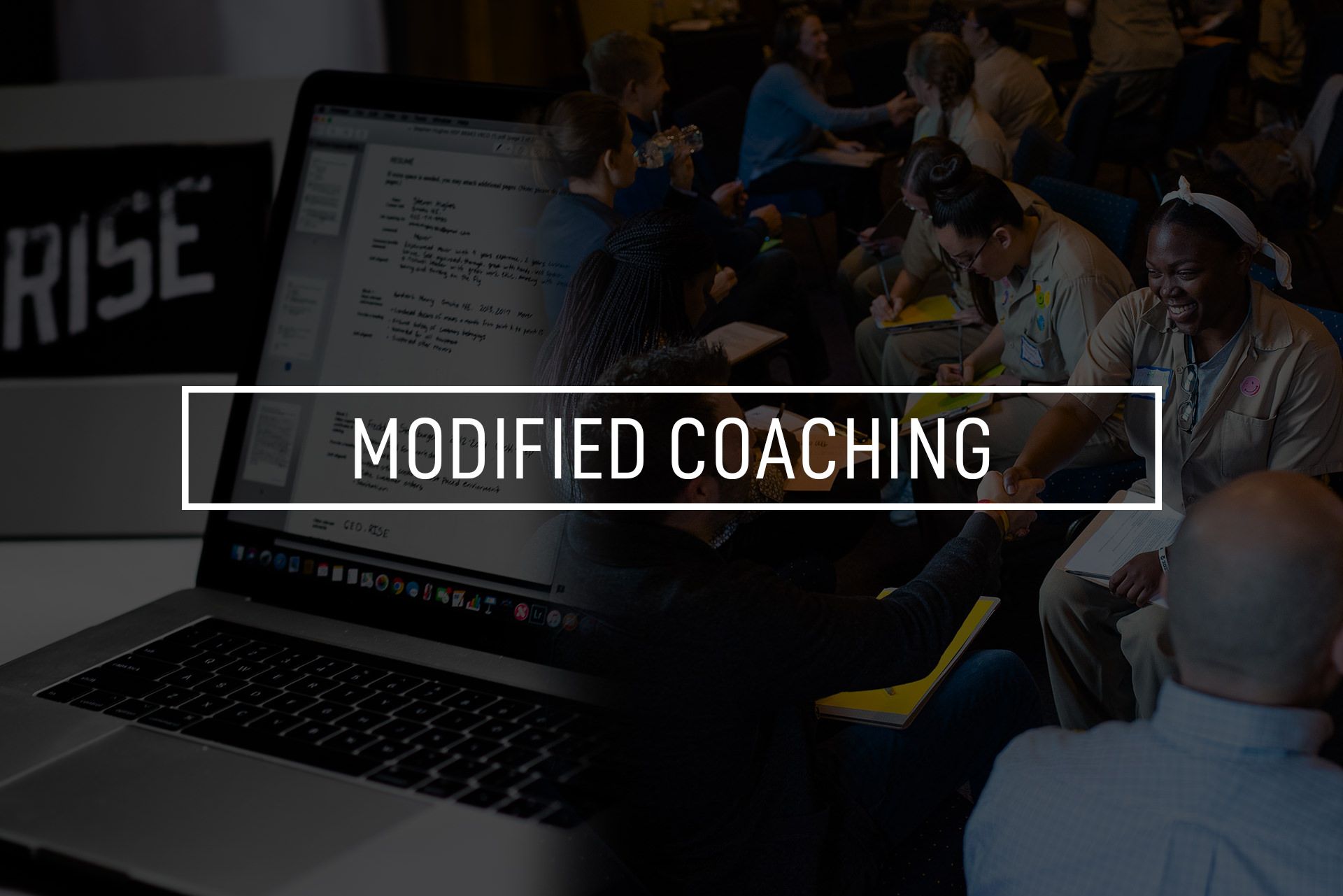 Coaching Days are an opportunity for our Builders to receive feedback on resumes, personal statements, and interview skills. However, because of precautions in place due to COVID-19, RISE has created a self-paced, at-home Modified Coaching Event for volunteers to keep providing such important help to our program participants!
For this Modified Coaching Event, volunteers will be assigned a RISE Builder via private RISE Coaching Portal, where they will review a personal statement, cover letter, resume, and beginning phase of business ideation. While reviewing these crucial pieces of RISE's program (and the reentry process), volunteers will submit honesty feedback via a guided online Google Form.
Important things you should know:
- This is roughly a 2-3 hour time commitment, however, it is all self-paced and can be done from the comfort of your own home.
- You will need computer access to complete this volunteer opportunity. Unfortunately, this opportunity is not optimal from your mobile device.
- There is a hard completion date deadline of October 2, 2020.
- There are no prerequisites to volunteer for the Modified Coaching Event! If you have ever spent time in the workforce, you're qualified!
UNO TRAC Program: Gendered Aspects of Incarceration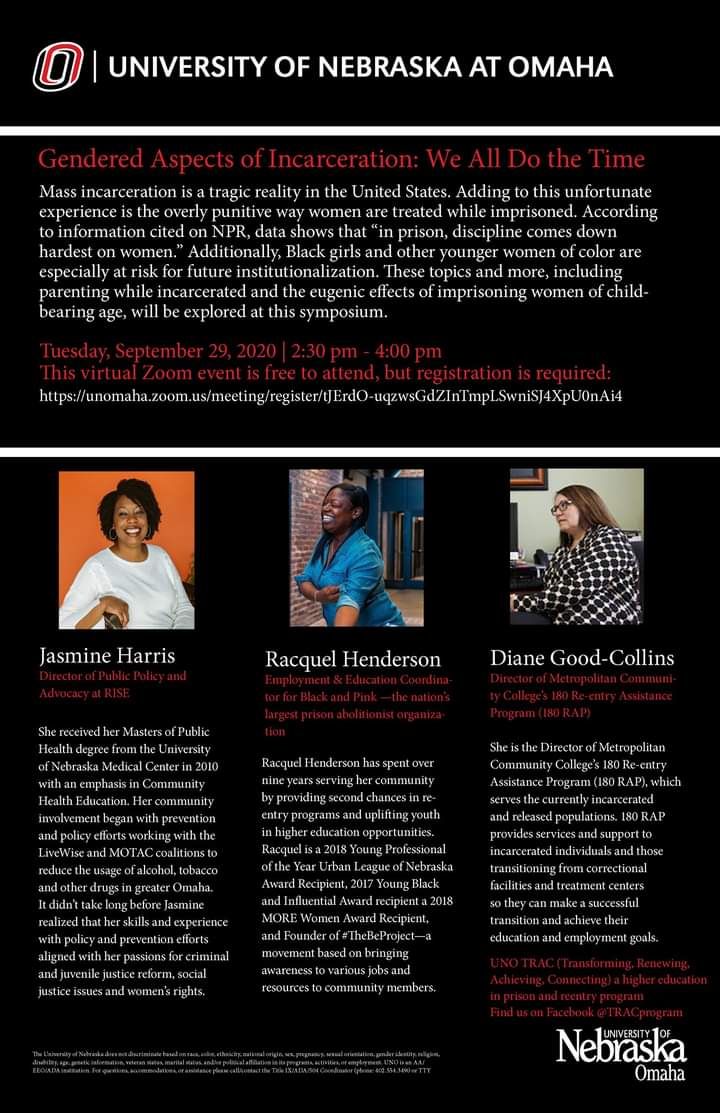 Mass incarceration is a tragic reality in the United States. Adding to this unfortunate experience is the overly punitive way women are treated while imprisoned. According to information cited on NPR, data shows that "in prison, discipline comes down hardest on women."
Additionally, Black girls and other younger women of color are especially at risk for future institutionalization. These topics and more, including parenting while incarcerated and the eugenic effects of imprisoning women of child-bearing age, will be explored at this symposium.
Moderated by Peggy Jones, a panel of speakers: Jasmine Harris, Racquel Henderson, and Diane Good-Collins will present their perspectives on these topics.