Decreased Incarcerated Population
• LB878 - Provide for automatic review of bail and conditions of release for misdemeanors or violations of city or village ordinances 
RISE's Position: Support
Status: Referred to Judiciary Committee/Hearing January 28, 2022
Testimony attached
• LB920 - Change criminal justice provisions including offenses, sentencing, set asides, restitution, pretrial diversion, and parole; provide for benefits under the Rural Health Systems and Professional Incentive Act; create criminal justice pilot programs; terminate an oversight committee; and create a task force 
RISE's Position: Support
Status: Referred to Judiciary Committee/Hearing January 26, 2022
Testimony attached
• LB1154 - Change provisions relating to good time, parole eligibility, and service of a sentence of incarceration outside of a department facility and require eighty percent of eligible committed offenders to be placed in community corrections or transitional housing
RISE's Position: Support
Status: Referred to Judiciary Committee/Hearing February 2, 2022
Testimony attached
• LB1155 - Provide for pretrial risk assessment and services pilot program
RISE's Position: Support
Status: Referred to Judiciary Committee/ Hearing February 3, 2022
Testimony attached
Improved Conditions
• LB831 - Provide for caregiver diversion programs and conditional release of pregnant and postpartum inmates
RISE's Position: Support
Status: Referred to Judiciary Committee/ Hearing January 27, 2022
Testimony attached
• LB880 - Provide requirements for commissaries in detention facilities and adult correctional facilities
RISE's Position: Support
Status: Referred to Judiciary Committee/ Hearing February 2, 2022
Testimony attached
• LB881 - Provide a sales tax exemption for feminine hygiene products and require detention facilities to provide hygiene products to prisoners free of charge
RISE's Position: Support
Status: Referred to Revenue Committee / Hearing February 25, 2022
• LB886 - Provide requirements relating to pregnant prisoners and detainees
RISE's Position: Support
Status: Referred to Judiciary Committee / Hearing January 27, 2022
• LB980 - Provide for release for medical treatment, change provisions relating to medical parole, and provide for parole eligibility for persons serving sentences of life imprisonment
RISE's Position: Support
Status: Referred to Judiciary Committee/ Hearing January 26, 2022
• LB1031 - Provide requirements on contracts for telecommunications services for jails
RISE's Position: Support
Status: Referred to Judiciary Committee / Hearing February 3, 2022
Testimony attached
Equitable Economic and Social Progress
LB709 - Change requirements relating to preliminary applications under the Occupational Board Reform Act
RISE's Position: Support
Status: Designated Priority Bill (Sen. McCollister)
Testimony attached
LB816 - Require collection of certain data upon commitment to the Department of Correctional Services
RISE's Position: Support
Status: Referred to Judiciary Committee / Hearing January 28, 2022\
LB917 - Provide an income tax deduction for certain wages paid to individuals convicted of a felony
RISE's Position: Support
Status: Referred to Revenue Committee / Hearing February 17, 2022
LB952 - Provide medicaid enrollment assistance to inmates prior to release from incarceration
RISE's Position: Support
Status: Referred to Judiciary Committee / Hearing January 26, 2022
Testimony attached
LB1111 - Appropriate funds to the Supreme Court for community corrections
RISE's Position: Support
Status: Referred to Appropriations Committee / Hearing February 3, 2022
Testimony attached
LB1197 - Appropriate funds to the Department of Correctional Services for grants to mentor justice-involved individuals
RISE's Position: Support
Status: Referred to Appropriations Committee / Hearing February 2, 2022
---
Upcoming Events & Articles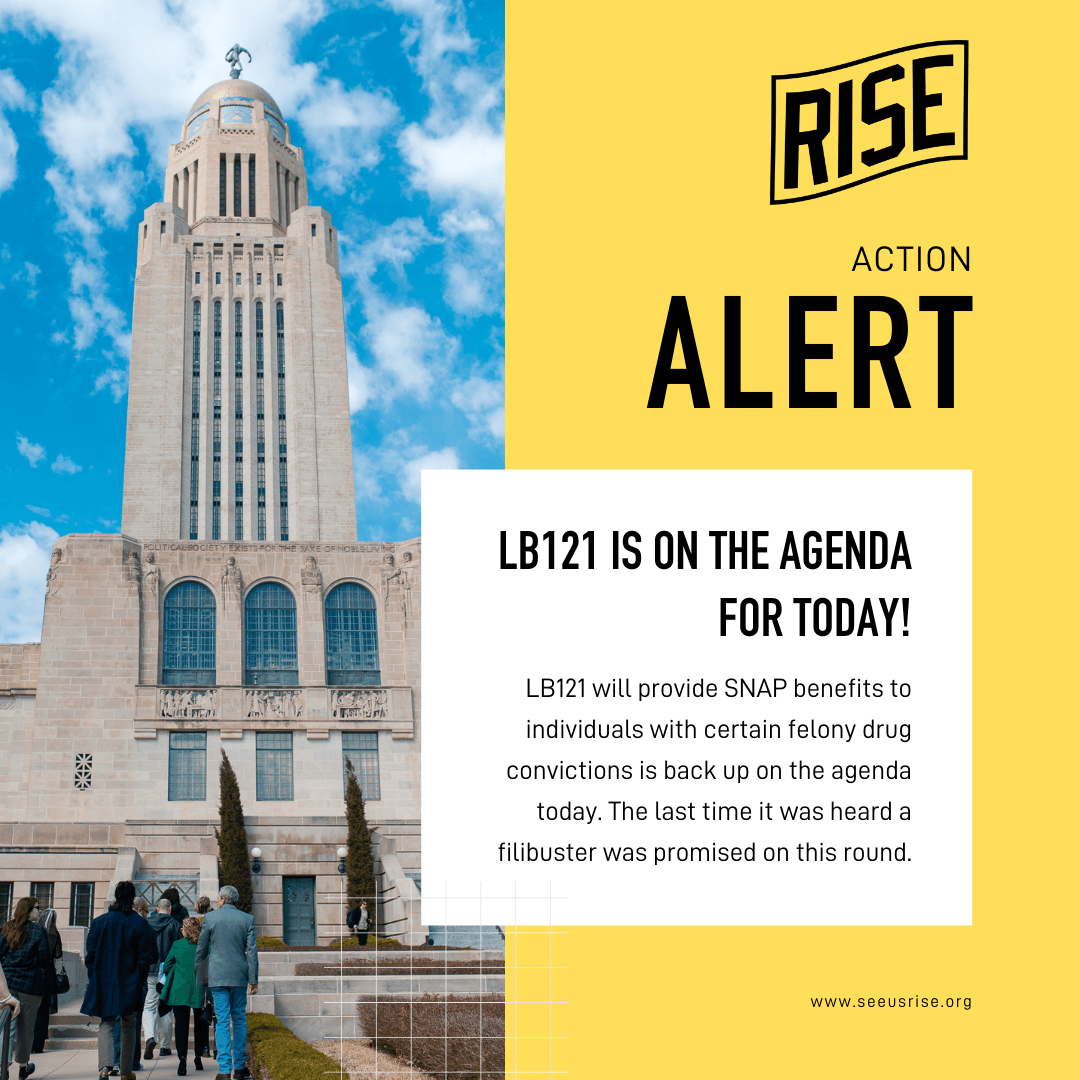 Last week was fraught with ups and downs within the legislature for criminal justice reform advocates. From vetoes to the stalling of key legislation, senators found themselves at the center of determining the future of Nebraska's criminal justice landscape.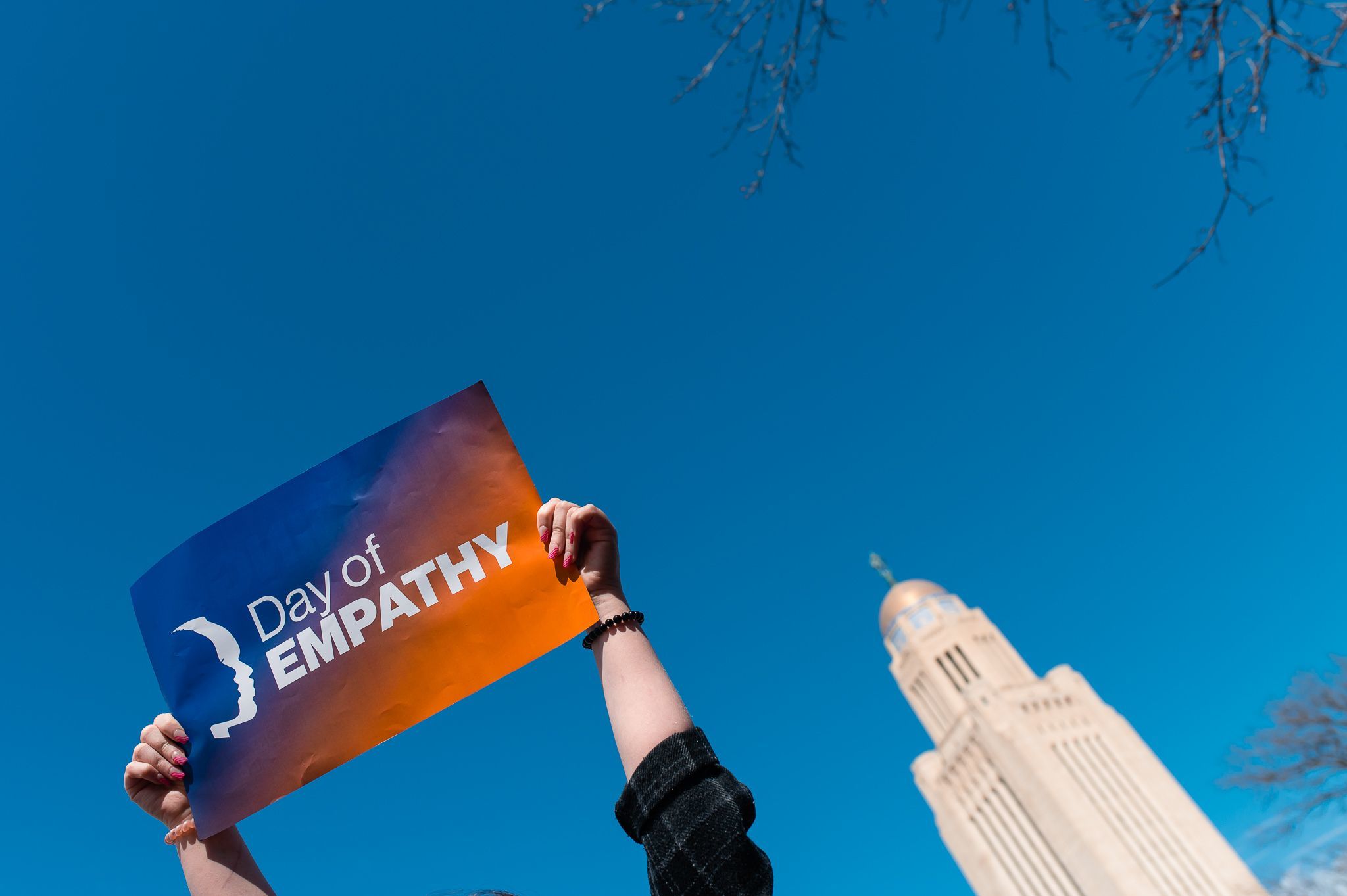 From the stories of perseverance from amazing individuals to senators sharing their priorities and what they will continue to fight for, this day laid the foundation for future events to grow and become more impactful.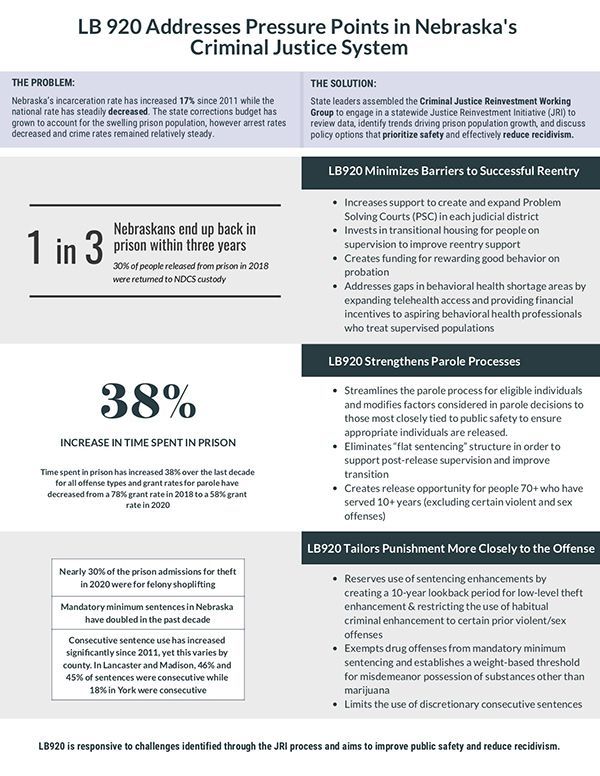 Nebraska needs criminal justice reform now. Our prison system is in an overcrowding crisis and we have the opportunity to do something about it. We need your help to make LB920 a reality!  
---