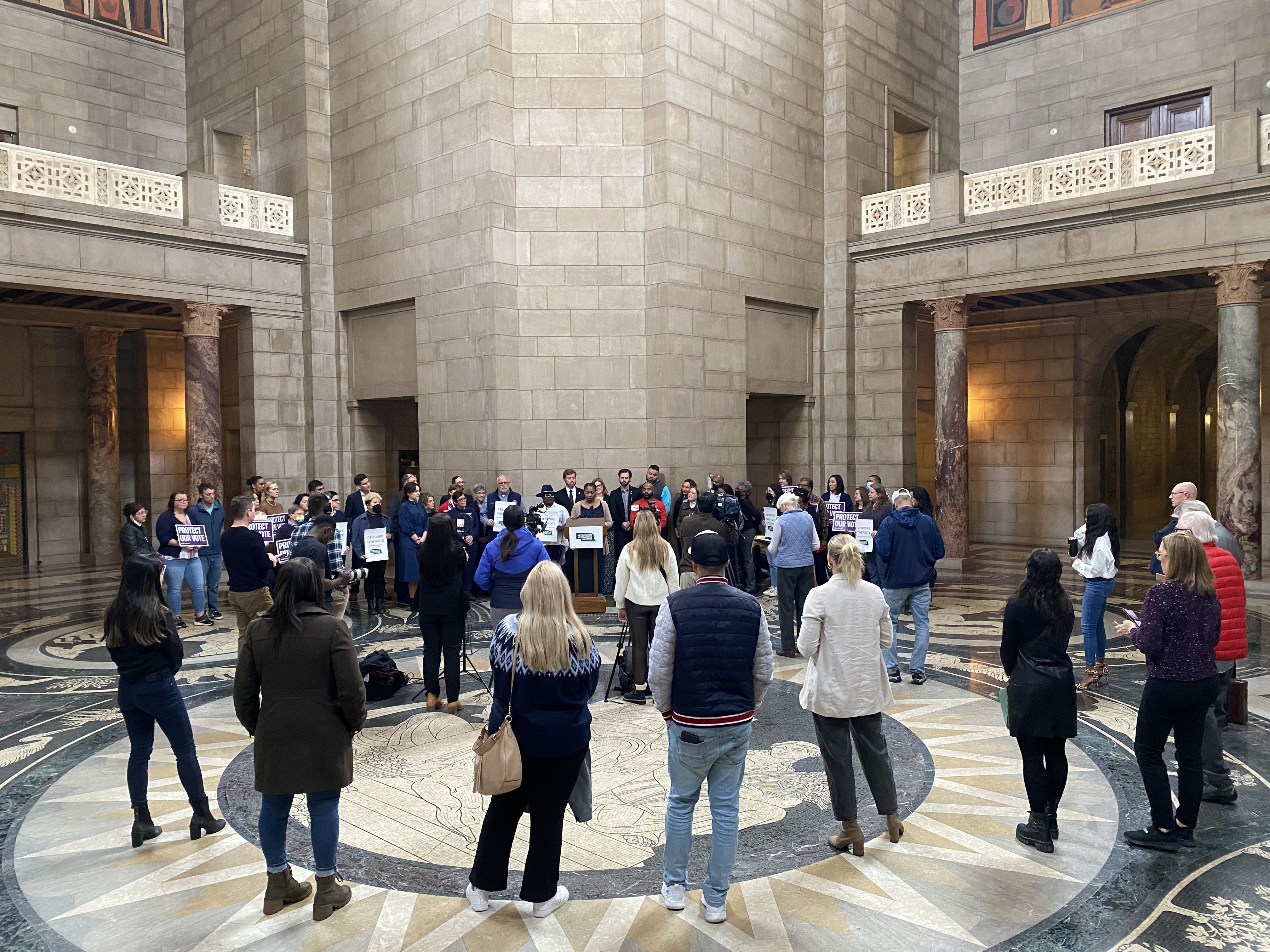 The Voting Rights Restoration Coalition is composed of over 30 statewide and local organizations. Our mission is to remove barriers to civic participation for those impacted by the criminal justice system. We want everyone to be able to access their right to vote, serve on a jury, and run for office.
We, the Voting Rights Restoration Coalition, believe people who have been impacted by the criminal justice system are the most integral voices in advocating for changing it. Reinstating the right to vote is a constitutional right too many have been unable to access.
95% of people incarcerated in Nebraska will return to their communities. We believe in supporting these individuals so they may have the best chance to re-integrate without punitive and arbitrary constraints, such as the two-year waiting period.
We support Senator Cavanaugh's constitutional amendment LR4CA, removing felonies as a disqualification from voting, and Senator Wayne's LB20, to remove the 2 year waiting period for those with felony convictions. Both of these efforts speak to the unnecessary and confusing extra barriers put forth to people who have felony convictions.
We ask that in future rounds of debate on this bill, considerations be given to amendments that would reinstate the right to vote immediately upon release rather than after the probationary period, further removing confusion about when people are allowed to vote; apply the loss of voting rights only to those serving felony sentences, rather than those convicted of felony sentences, allowing those convicted of felonies but sentenced to probation to retain voting rights; and allow people who have served felony sentences to run for office and serve on juries.
Voting Rights Restoration Coalition Members
ACLU of Nebraska
Black and Pink National
Black Men United
Black Votes Matter
Bridges to Hope
Civic Nebraska
Common Cause
Community Justice Center
Heart Ministry Center
Inclusive Communities
Intertribal Spiritual Lodges
JustUs15Vote
Las Voces de Nebraska
Mental Health Association of Nebraska
NAACP
Nebraska Appleseed
Nebraska Civic Engagement Table
Nebraskans For Peace
Nebraskans United Unafraid
New Life Family Alliance
Omaha Alternatives to Violence Project
Opening Doors at The Center for People in Need
RAN Racial Justice Policy group
ReConnect, Inc.
Reentry Alliance of Nebraska Board
RISE
Stand in For Nebraska
The Sentencing Project
Together
Facts You Should Know
2022 estimates put the current number of Nebraskans affected by the current law at least over 10,000 people, including those currently incarcerated, on parole, and on probation. This figure doesn't capture the thousands of Nebraskans who had their rights revoked prior to the rule change in 2005 or were never notified their right to vote was reinstated since.
In the US, there are 11 states that put extra requirements on people with felony convictions after a sentence is completed.
Since January 1, 2020, laws or policy changes took effect in 8 states, expanding voting rights to some non incarcerated people:

California (parole), Connecticut (parole), Iowa (post-sentence, with exception for homicide), New Jersey (probation and parole), New York (parole), North Carolina (probation and parole), Virginia (post-prison), and Washington (post-prison).

Twenty-six states deny voting rights to people on felony-level probation or parole. While twenty-two states only revoke the right to vote during incarceration.
In the most extreme cases, 11 states continue to deny voting rights to some or all of the individuals who have successfully fulfilled their prison, parole, or probation sentences.
11 states including NE impose extra after sentence completed: Wyoming Virginia Tennessee Mississippi Kentucky Florida Iowa Delaware Arizona Alabama
Stay up to date with calls-to-action here.